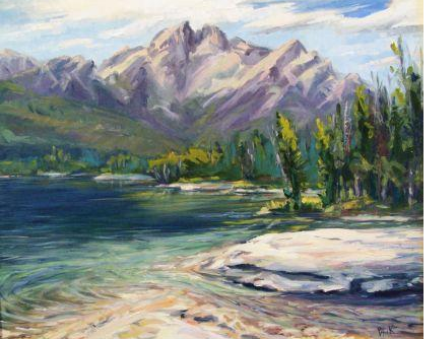 Human Resource Services will host an artist's reception and open house from 11 a.m.-3 p.m. Friday, March 15, to debut a commissioned piece of art by Boise State alumna Wendy Blickenstaff. The official unveiling will take place at 11:30 a.m. This event is free and open to the public; light refreshments will be served.
Blickenstaff paints to imitate lived experiences in various Western landscapes. The commission involves a large-scale mural illustrating a mountainous landscape, conceptually meant to mirror the monumental task of strategically engaging employees through the HR Great Eight initiatives. These projects came about from HR's desire to partner with campus to provide a better employee experience and drive employee engagement.
"The HR team wanted to create an interactive and functional visual aid that would highlight and track HR projects," Blickenstaff explained. "We worked together to create something new, beautiful and useful."
The scene is inspired by the area around Stanley Lake, and the artwork is interactive: there are small magnets that can be moved within the landscape to create hikes. These narratives will be used to represent different HRS project journeys and to show how it is progressing on its mission of connecting the campus in a unified people strategy – a strategy with one goal of creating a workplace that values all individuals and where everyone's daily effort is meaningful.
"Many of us who live in Idaho enjoy hiking expeditions in our rugged wilderness. We know all too well the potential hazards of the journey, the fatigue of the hike and the rewards of a final ascent," Blickenstaff said. "I can't wait to see the artwork in action, as it tracks the progress of HRS teams – adventuring to the summit."
Through the work, the Boise State HRS also seeks to inspire Boise State employees to envision their own accomplished goals in supporting campus and student success.
"I see departments across campus craving artwork in their spaces, not simply to decorate walls but to integrate technical skill and thoughtful completion of concept. In this commission, HR is calling upon the artist as the exemplar of what we can all accomplish in our work," remarked Fonda Portales, University art curator and collections manager.
A member of the Plein Air Painters of Idaho, Blickenstaff brings this depicted beauty to the HR offices in this new campus public art project led by HR's traditions group: Abel Johnson, Denise Ooley, Tiffany Widman, Katie Thomas and Kaysi Parke.
"We knew from the start we wanted to work with a Boise State student so we reached out to Dan Scott, associate professor and interim department chair of the art department, for his recommendation," said Ooley.
For more information about how HR is partnering with campus partners to drive employee engagement, please visit: https://sites.google.com/boisestate.edu/hrprojectsite/home.