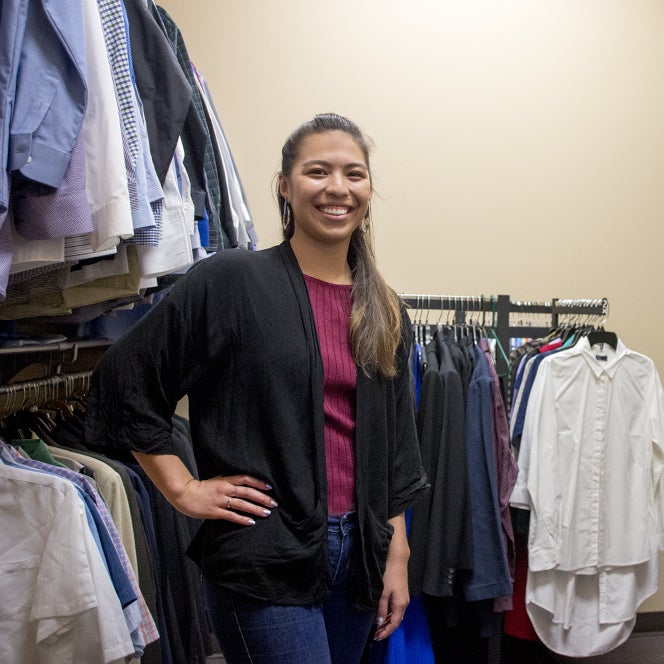 When Boise State senior Cierra Abellera attended a conference in Washington, D.C., she and several fellow students found themselves without enough professional clothing for three days of presentations.
After mentoring another student in a similar situation, Abellera, a McNair scholar who will graduate with a degree in psychology in May, realized she needed to do something.
"I saw the need and got to work," Abellera said. "I want students to feel comfortable in professional spaces and using career-development resources. As a first-generation student, that can be hard to navigate."
Abellera explained that first-generation college students and her peers in the McNair Scholars Program, as well as other federal TRiO programs that are geared towards providing services for students from disadvantaged backgrounds, often don't have access to or realize the need for professional attire. The McNair program prepares undergraduate students for doctoral studies through involvement in research and other scholarly activities – which involves more conferences and more public presentations, and necessitates even more professional attire.
To make it easier for all students to access free high-quality professional clothing for everyone, Abellera brought her idea for a Career Closet to the planning committee for MLK events at Boise State – a group committed to diversity and inclusion year-round.
In partnership with the committee and after researching similar programs at other universities, Abellera then began searching for a place at Boise State to launch the closet. The College of Business and Economics (COBE) Career Services offered a space to stock the clothing.
The Career Closet officially opens fall 2019 in COBE Career Services, located on the first floor of the Micron Business and Economics building. However, Abellera will host a pop-up closet 1-3 p.m. Tuesday, April 30, in the Quad.