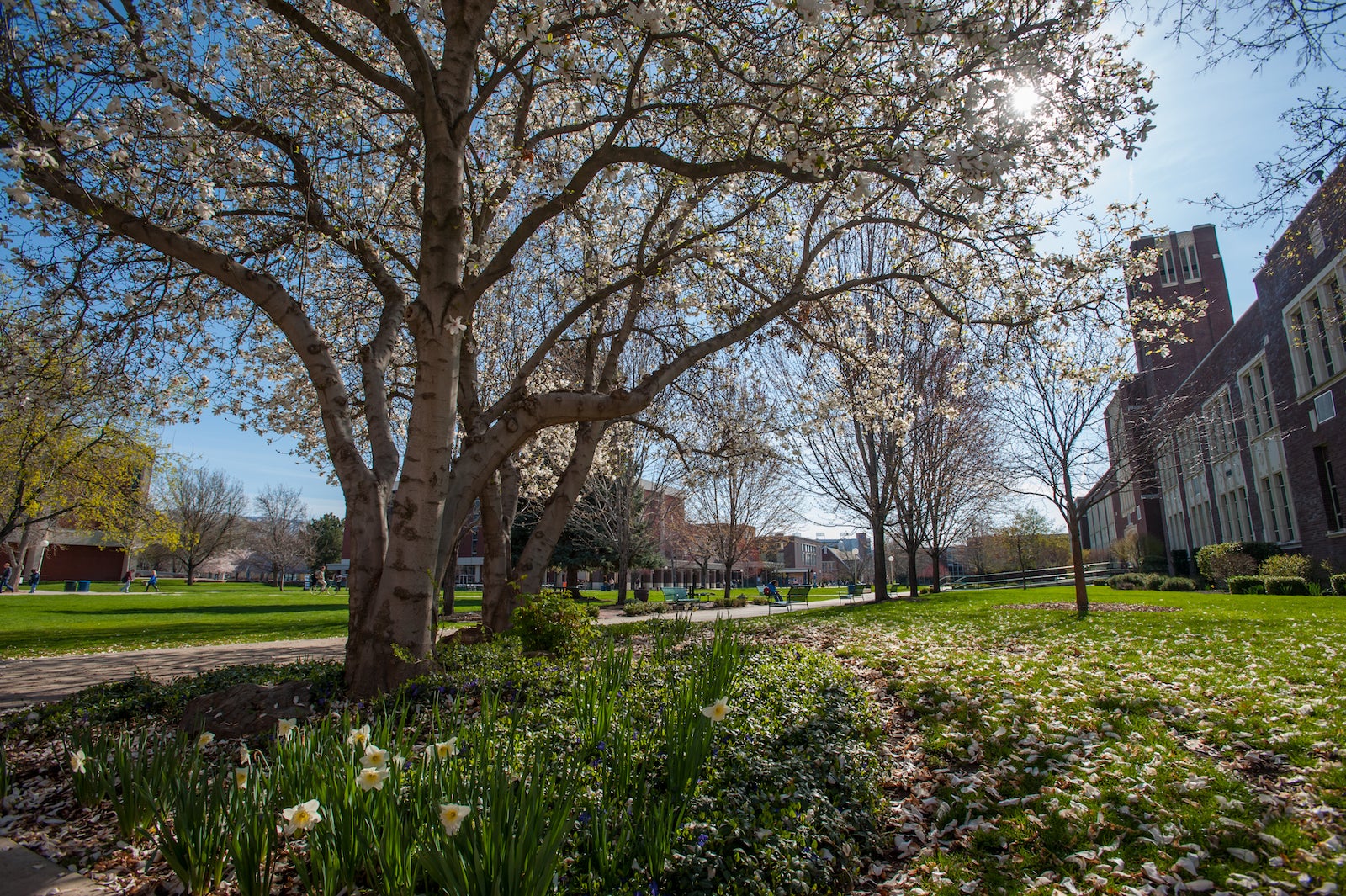 Thirteen nontraditional students step off a Bronco shuttle and onto Boise State's campus for the first time. Many speak in their native languages, some are accompanied by their grandchildren, and a few try and communicate with each other and their tour guide, Boise State alumna Ashley Hislop, in English. These students — most of them elder refugees from war-torn countries like the Democratic Republic of the Congo, Burundi, Rwanda and Sudan — share one commonality: they are eager to learn.
"Most of my students from birth had been learning three or four languages at a time," said Hislop. Mastering English is just their latest challenge.
Many of the elders have moved from city to city for most of their lives, so a change of classroom scenery is routine but nonetheless exciting. The students tour the Boise State Quad, giving high fives to fellow students who walk by, before filing into a room in the Simplot Micron Academic Success Hub, their official classroom for the foreseeable future. These students are Broncos now, brought to campus by a Boise State Service-Learning Program that helps refugees practice English and eventually apply for U.S. citizenship.
Musu Fabdullah, one of the refugee students, has attended the class since 2016. The 62-year-old was born in Liberia and arrived in the U.S. in 2006.
"I like the English class because it makes me forget about my trauma," said Fabdullah. "And it makes me happy to remember what things I used to do."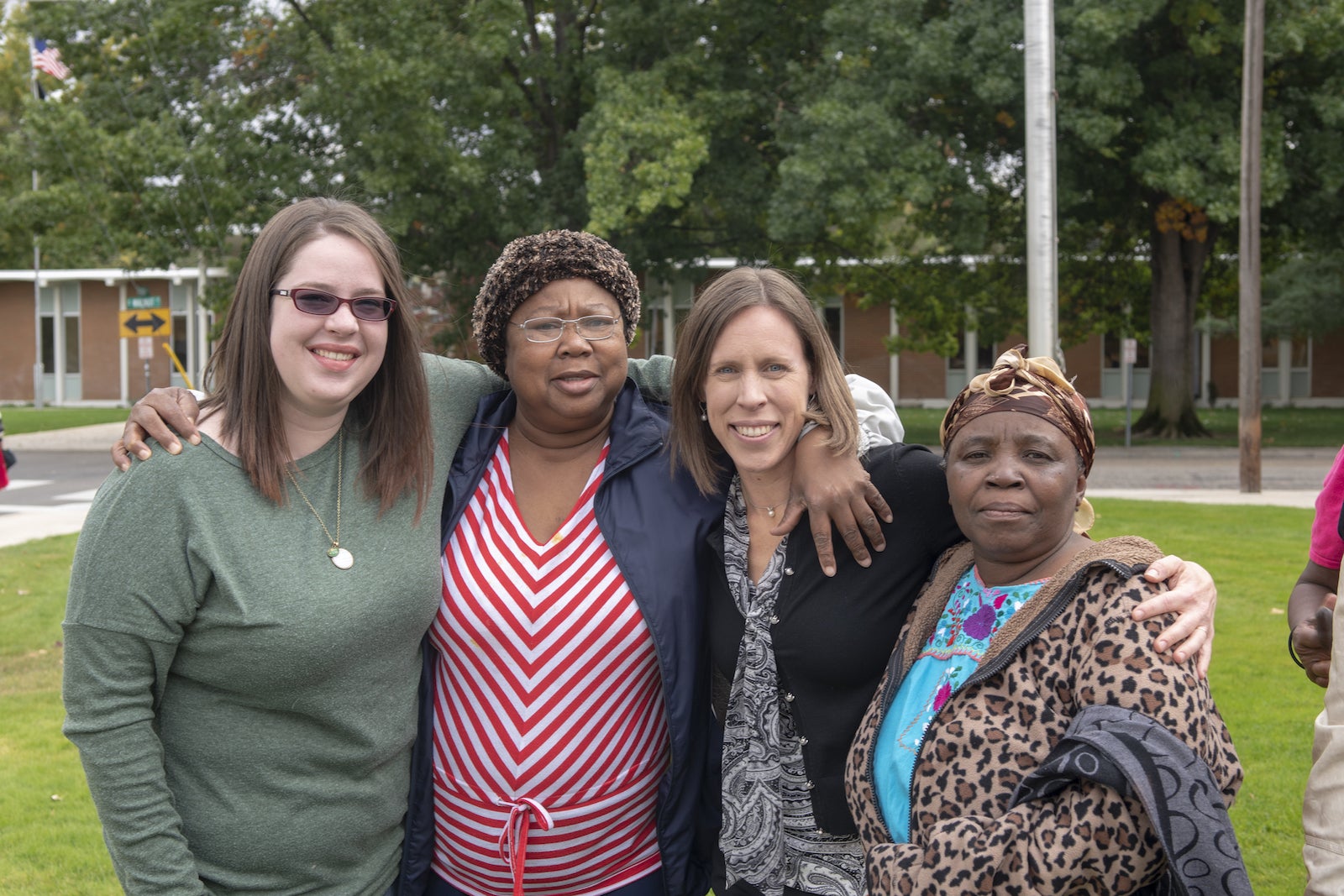 Speaking the Language of Service
Through partnerships with local organizations, Boise State's Service-Learning Program empowers students to address critical community issues, while training them to be active, engaged citizens. Hislop, who graduated in 2013 with a degree in anthropology, and a rotating cast of student volunteers help run Project SHINE (Students Helping in the Naturalization of Elders) at Boise State. The national project pairs university students with elder refugees and immigrants who are working to obtain U.S. citizenship. The university launched the program in 2013 with help from the Idaho Office for Refugees and the English Language Center in Boise.
Many of the elders enrolled in Boise State's Project SHINE were born in places like the Congo, which is home to more than 200 ethnic groups who speak nearly 250 languages. The class, which is held every weekday for two hours, provides an opportunity for elders to learn and practice their English skills. For those who are new to the program, course lessons aim to build basic conversation skills and literacy, while instruction for students with three or more years in the U.S. is tailored to meet the requirements for passing the citizenship exam.
"The experience one goes through as a refugee is very dehumanizing. [The class] reinforces that these people are important, that they're loved, that they're welcome here." – Ashley Hislop, Project SHINE teacher
Casey Keck, associate professor in the linguistics program and founder of Boise State's Project SHINE, said the program is a means for the students to learn a new language, while it provides safety and stability.
"We are really trying to address social isolation," said Keck. "The elder refugees can come here and be a part of a family and community once a day. They see their peers, they're interacting with younger people and they have goals they're setting for their language development."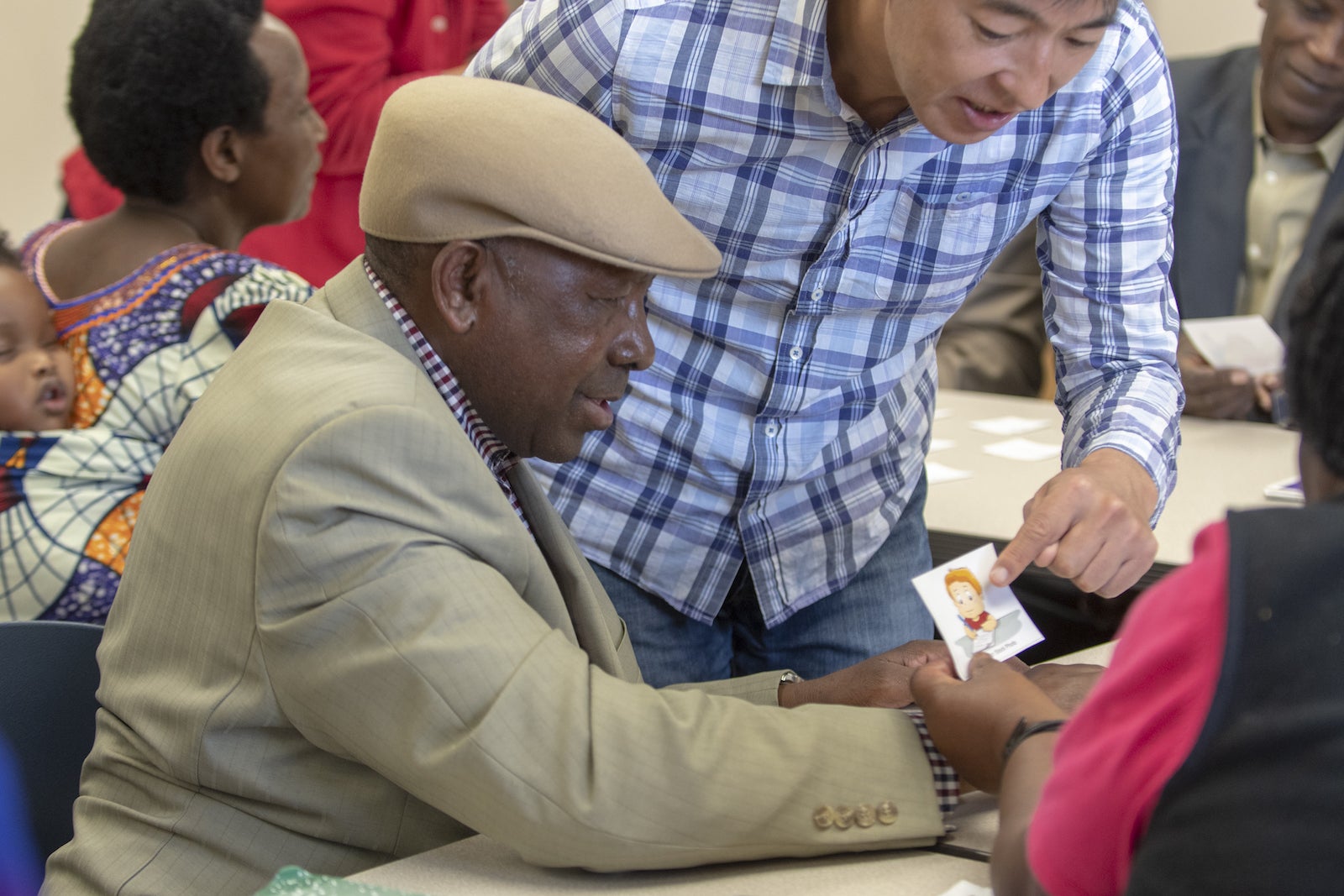 Teachers Learn Too
The class gives Keck, Hislop and the volunteers as much of a learning opportunity as the highly-motivated elders. Project SHINE student volunteers are required to complete Steve Rainey's English Language Center volunteer training — a program that all of the center's volunteers receive — followed by additional training by Hislop that is designed for refugee elders. During this service-learning class, student volunteers assist Hislop, develop activities and often work with elders who need help completing in-class tasks.
As student volunteers gain more experience, they have the opportunity to take on leadership roles like Caitlyn Moyle, president of the Project SHINE student organization, who now co-teaches the citizenship class with Keck. The student organization also pursues additional funding, such as grants from Associated Students of Boise State, which supplies the class with color copies for lessons and to purchase food for field trips and parties. In the fall 2018 semester, volunteers logged more than 500 hours of service assisting elders.
"We have the privilege of working with these amazing, strong, resilient, talented individuals and they have a lot to teach us," said Keck. "That's part of what it means to be a teacher, right? To be learning from your students, challenging your own assumptions and broadening your perspective."
Hislop and her students aren't shy about having fun with the process of helping the elders achieve citizenship.
"Language learning can be really, really scary," she said. "Watching the teacher make an absolute fool of herself to string together a sentence in Swahili, well, it makes them feel a little bit better about trying to string a sentence together in English."
Fostering a Culture of Giving Back
Since Boise State's Service-Learning Program launched in 1998, more than 36,000 students have participated in service-learning projects. Annually, service learning impacts more than 160 classes, 44 departments and 100 community partners. Some partnerships have been ongoing for years while others are in their infancy.
Several of the elders who have achieved their U.S. citizenship through Boise State Project SHINE have returned to mentor current students and remain members of the family. Keck says that the class has become an "extended family" of hers, part of a local community whose roots span the globe.
"The experience one goes through as a refugee is very dehumanizing," said Hislop. "When a student volunteer comes into the classroom and listens to one of our refugee students, it really humanizes them. It reinforces that these people are important, that they're loved, that they're welcome here."
"[Project SHINE is] very important, it makes me happy to be among people," Fabdullah said. "Because when I'm alone I cry so much. When I'm in class, I feel happy. Relating with other people, I feel happy."