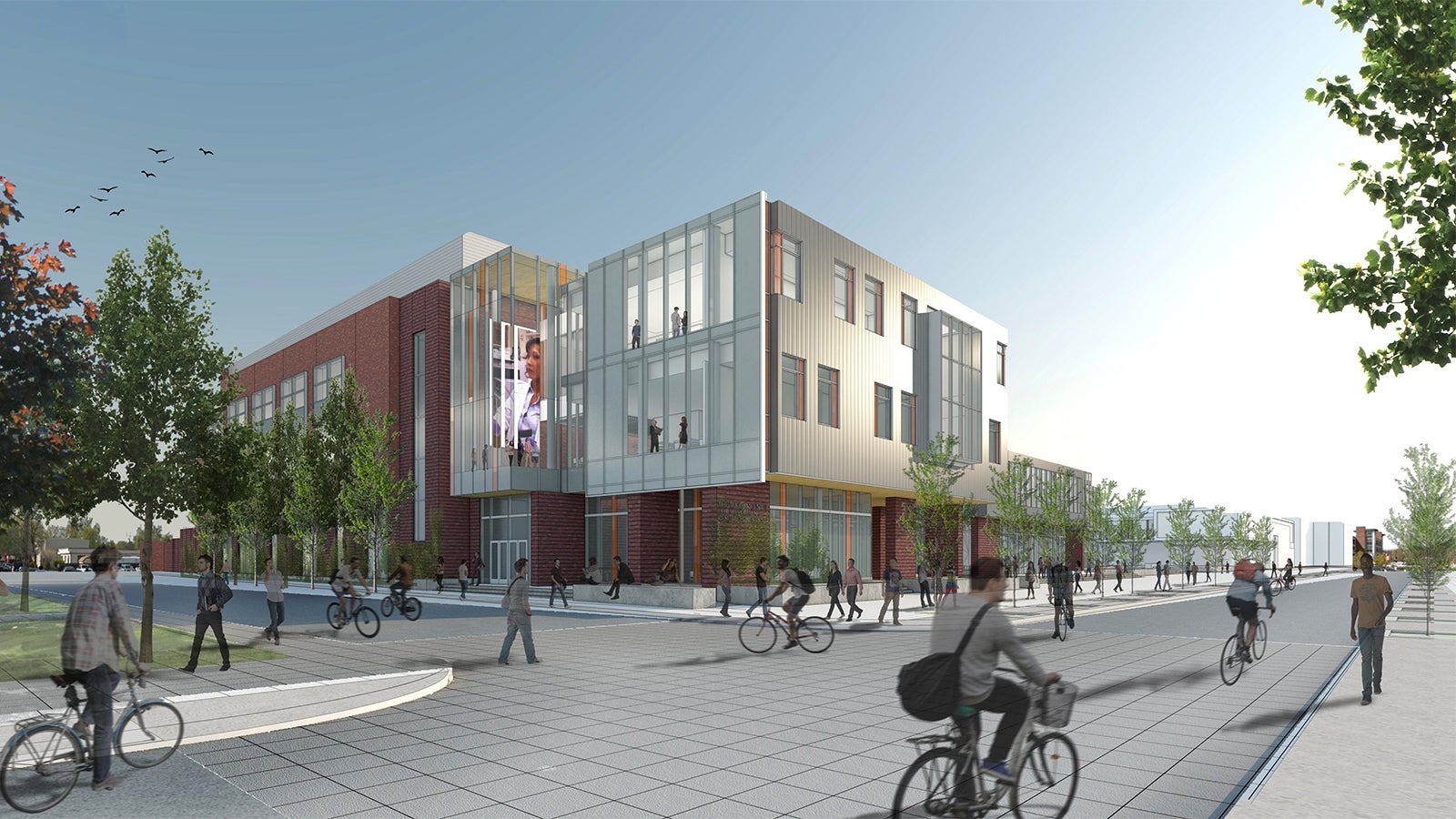 Throughout its 87-year history, Boise State has relied on and fostered partnerships to provide opportunities for students and faculty alike. These collaborations, often forged with the Treasure Valley's most successful native corporations and foundations, are the key to the university's success in teaching, research and scholarship.
One such longstanding partnership that significantly has aided in the university's ability to grow and thrive has been with Micron and the Micron Foundation.
Through a $25 million gift from the Micron Foundation, the university broke ground in April 2018 on the new Micron Center for Materials Research at Boise State. The nearly 98,000-square-foot world-class materials research facility will provide more than 30 research laboratories, a 250-seat lecture hall, two 80-seat classrooms, offices and work spaces for faculty members, staff and graduate students advancing materials research at Boise State. The building will be the home of the Micron School of Materials Science and Engineering, which directs the multidisciplinary Ph.D. program in materials science and engineering. The latter is the result of a $13 million gift from Micron in 2012.
Materials research is the interdisciplinary study of new materials, usually solids, and stems from the design and discovery from researchers in the fields of chemistry, engineering and physics. It truly is a bridge between the sciences and engineering.
According to College of Engineering Dean JoAnn Lighty, the new building will elevate the work of Boise State research faculty who already are globally recognized for their expertise in the areas of novel materials, biomaterials and nanotechnology.
"The college is committed to transdisciplinary research and Ph.D. programs, as well as innovative teaching methods that improve student success. The Micron Center for Materials Research is a fine example of both of these concepts," Lighty said. "Our relationship with Micron and the Micron Foundation provides many opportunities, and the center will transform and catalyze Boise State's international prominence in materials research and house state-of-the-art learning spaces."
The Micron Center for Materials Research is slated to open for classes in fall 2020.
Micron and the Micron Foundation's support of the university date back several decades, totaling more than $68 million in charitable support for the advancement of programs at Boise State.
"As we seek to inspire the next wave of scientists and engineers, Boise State has been one of our strongest partners in empowering both students and educators. We believe it is imperative to have talented individuals with engineering degrees throughout the Treasure Valley to help advance the technology field and create jobs of the future."

— Dee Mooney, Executive Director of the Micron Foundation
During the 1990s, Micron leaders were vocal champions for the creation of the College of Engineering at Boise State. The tech firm issued a $6 million challenge grant to fund the construction of the first engineering building, known today as the Charles P. Ruch Engineering Building, named after Boise State's president when the college was founded.
"We've also donated to help construct the physical spaces where students can learn, explore and innovate," Mooney said. "It's a powerful history but we are even more excited by the future as those who are supported and inspired by these programs make their mark."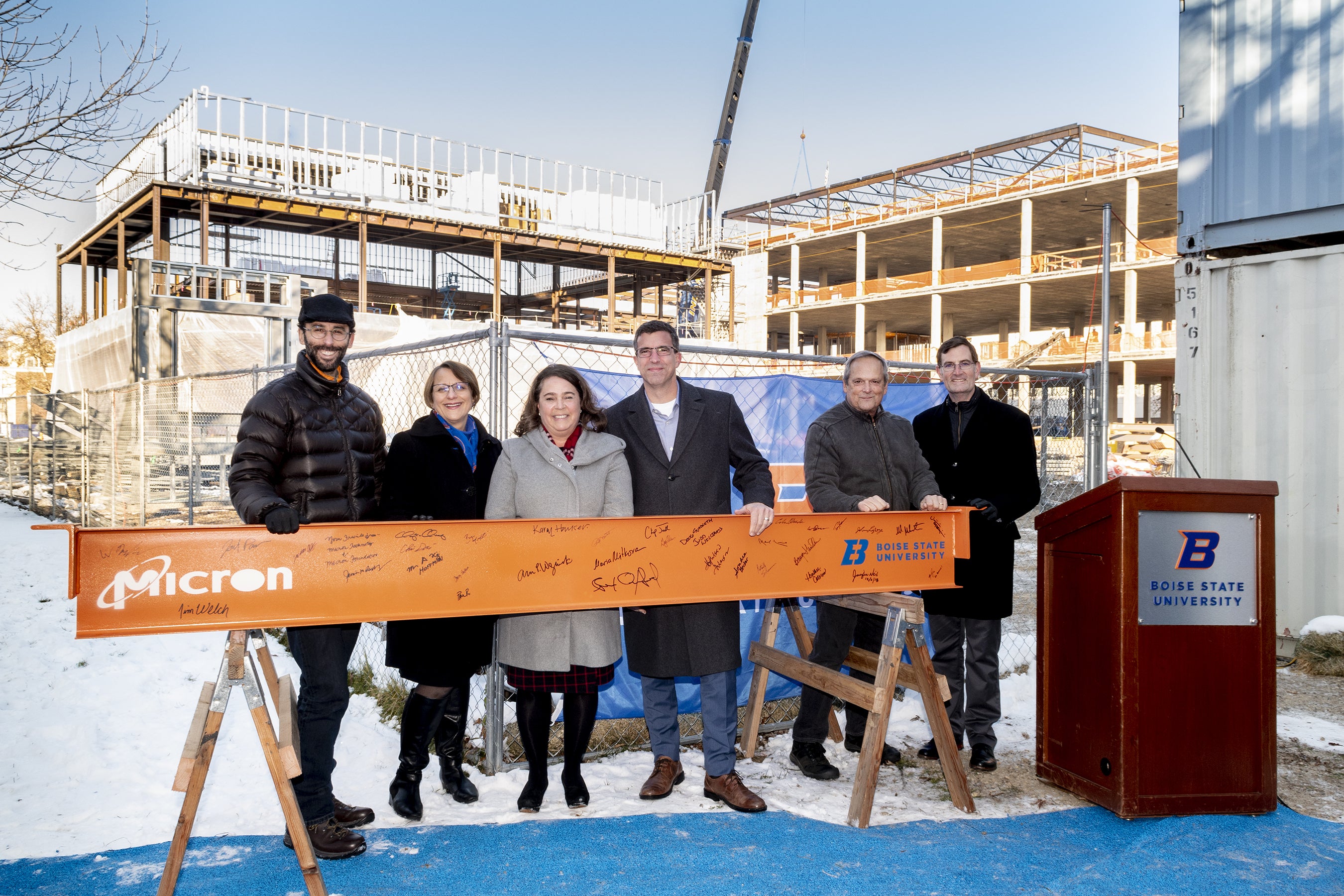 The partnership between Micron, the Micron Foundation and Boise State also has resulted in funding to create programs in materials science and engineering, as well as an electrical and computer engineering Ph.D. program.
"The support and partnership that Micron and others provide is exemplary of the many ways a relationship between corporate and foundation partners work with Boise State," Lighty said. "These partnerships provide valuable opportunities for students, some of which would not happen otherwise, and strengthen Boise State's impact at all levels."
In spring 2019, the college received its first ranking as a Ph.D. granting institution in U.S. News and World Report's Graduate College issue. The College of Engineering ranks 141 out of 199 national programs that were deemed worthy of ranking, while the Micron School of Materials Science and Engineering ranked 67 out of 111 programs. Lighty is pleased with the rankings, noting that the first doctorates were awarded less than 10 years ago.
Forming a coalition of private and public interests between community partners and Boise State is key to nurturing the economic vitality of the state, growing the number of skilled professionals and connecting them to the opportunities available in this rapidly growing industry sector.
"Through our strong partnership with Boise State, we have been fortunate to be able to provide input and work closely on a variety of aspects related to what will be a world-class engineering and materials science program," said Scott DeBoer, Micron executive vice president for technology development. "Students with backgrounds in material science will be in critical demand for the future workforce across a variety of industries, which certainly includes Micron. At Micron, there is a sense of pride in our long-term partnership with Boise State, and the value it has provided in strengthening both our community and the local workforce to compete on a global level."
While support for the College of Engineering has been significant, Micron and the Micron Foundation also support other programs at Boise State.
A lead gift of $12.5 million from the Micron Foundation helped fund construction of the Micron Business and Economics Building in 2012. A statue in the building's courtyard is dedicated in memory of former Micron CEO and Boise State alumnus Steve Appleton, who died in 2012. The tech company also has a long history of funding scholarships for teachers for the IDoTeach program – an innovative secondary STEM teacher preparation program at Boise State.