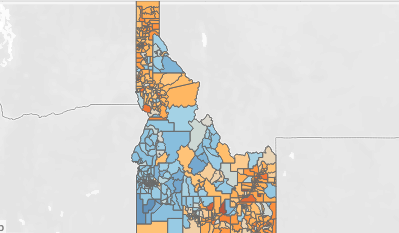 The Idaho Policy Institute, housed within Boise State University's School of Public Service, has published an interactive map containing precinct-level results of ballot measures from the 2018 election, better known as Prop 1 (horse racing) and Prop 2 (Medicaid expansion). The map also shows detailed voter turnout statistics. Explore the tool at https://www.boisestate.edu/sps-ipi/interactive-dashboards/.
Prior maps of the 2018 election have been limited to results by county and legislative district. Precinct maps provide more local detail, since the state is divided into hundreds of precincts. For instance, Ada County alone has 150 precincts. Precinct boundaries often shift between elections, making maps of this detail rare and difficult to construct.
"This precinct map represents the preferences of Idahoans at the most granular level, where decisions often matter the most," said Greg Hill, director of the Idaho Policy Institute. "IPI is excited to make this tool available. We feel that the more information decision makers and the public have access to, the better informed those decisions will be."
On the map, users can hover over a precinct to see the location description, voting results and total number of ballots cast. Users have the option to look at election data across the state or select counties to focus on a specific region.
The institute plans on expanding its collection of maps showing data on elections, policy and other Idaho-related issues.