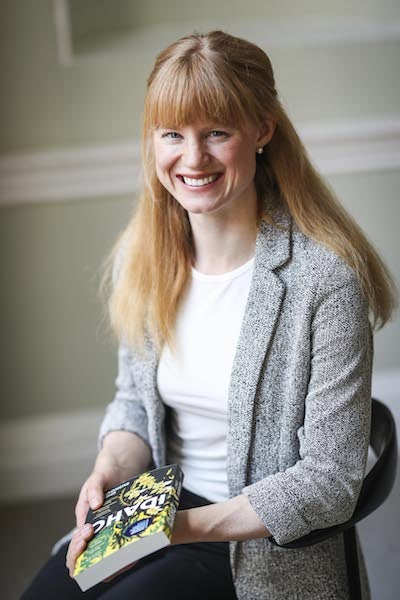 Writer Emily Ruskovich, an assistant professor in the Department of Theatre, Film and Creative Writing, has won the 2019 International Dublin Literary Award for her novel "Idaho."
The award, given by the Dublin, Ireland city council, comes with a prize of 100,000 euros. It is the largest prize for a single novel published in English. Ruskovich is the fourth American author to win the prize in its 24-year history.
Ruskovich received the award at a ceremony in Dublin's Mansion House on Wednesday, June 12.
Judges chose Ruskovich's novel from a total of 141 titles, nominated by libraries in 115 cities across 41 countries. The public library in Brugge, Belgium, nominated Ruskovich for the award.
Commenting on her win, Ruskovich said, "I cannot express how grateful I am to be the recipient of this astonishingly generous award. It is difficult to know how to respond to the magnitude of this kindness that has been so suddenly bestowed upon me… I am especially honored because of the admiration that I feel for the other finalists, authors from all over the world who are all doing such crucial and beautiful work."
The 2019 judging panel, which included Irish author Éilís Ní Dhuibhne, commented:
"Ruskovich's masterful achievement is to narrate with consummate skill the complex series of events covering a time-span of more than 50 years. Empathy and love stand next to cruelty and crime. Individual guilt, trauma and pain are looming as large as eventual forgiveness and the ability to live in half-knowledge. Ultimately, 'Idaho' evolves into a masterpiece on the redeeming and regenerative potential of music, poetry, literature and art."
Ruskovich's fellow faculty members shared their congratulations.
"Winning the International Dublin Literary Award is a great honor, and the faculty, staff and students of the creative writing program couldn't be more proud," said Associate Professor Brady Udall, co-director of the MFA writing program.
"We are all absolutely thrilled for Emily at winning this prestigious award. Her achievement brings the world's attention not only to Emily and her terrific novel, but also to the creative writing program and Boise State," said Professor Mitch Wieland, co-founder of the program. "We are so very lucky to count her among our faculty."
A Boise State interview with Ruskovich about her process in researching and writing "Idaho" can be found here.
Ruskovich grew up in the Idaho Panhandle, on Hoodoo Mountain. Her fiction has appeared in Zoetrope, One Story and the Virginia Quarterly Review. A winner of a 2015 O. Henry Award and a graduate of the Iowa Writer's Workshop, she lives in Idaho City with her husband and baby daughter.
The other shortlisted novels for the 2019 award were "Compass" by Mathias Énard translated from French by Charlotte Mandell; "History of Wolves" by Emily Fridlund; "Exit West" by Mohsin Hamid; "Midwinter Break" by Bernard MacLaverty; "Reservoir 13" by Jon McGregor; "Conversations with Friends" by Sally Rooney; "Lincoln in the Bardo" by George Saunders; "A Boy in Winter" by Rachel Seiffert and "Home Fire" by Kamila Shamsie.
Read more in the Irish Times: https://www.irishtimes.com/culture/books/debut-us-author-emily-ruskovich-33-wins-100-000-international-dublin-literary-award-1.3923173
See a live stream of the award on the International Dublin Literary Award Facebook page: https://www.facebook.com/InternationalDublinLiteraryAward/?hc_ref=SEARCH&fref=nf