June 20, 2019, marked the 50th anniversary of America's first space voyage to the moon.
A June 19 story by 2 Idaho News featured voices from Boise State — John Freemuth, the Cecil Andrus Endowed Chair of Environment and Public Lands at Boise State, and Steve Swanson,  a former astronaut and Distinguished Educator in Residence in the Division of Research and Economic Development.
Freemuth recalled the day.
"I flew down to LA to watch the landing with friends, and there was nobody on those freeways. It was the eeriest thing. Everybody was inside watching television … with Uncle Walter (legendary newsman Cronkite), who else?"
Swanson flew twice on the Shuttle and once on Soyuz and has commanded the International Space Station.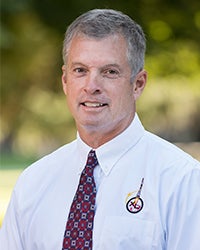 The story quoted him: "It seems every three months there was a a new launch with a new mission. They were trying something new every time. It was an amazing pace they were on. It's never been duplicated. We're more cautious now, maybe too cautious, possibly."
See the complete story: https://idahonews.com/news/local/boise-astronaut-space-scientist-political-scientist-reflect-on-giant-leap