In order to further the scholarship of teaching and learning (SoTL) in linguistics, Michal Temkin Martinez, an associate professor of English, has been awarded more than $60,000 by the National Science Foundation through the Linguistic Society of America. Alongside University of Michigan-Flint co-PI Kazuko Hiramatsu, Temkin Martinez will form and facilitate a faculty learning community of scholars and educators from across the country during the 2019-20 academic year. Temkin Martinez and Hiramatsu currently serve as associate editors of the teaching linguistics section of the Linguistic Society of America's flagship journal, Language.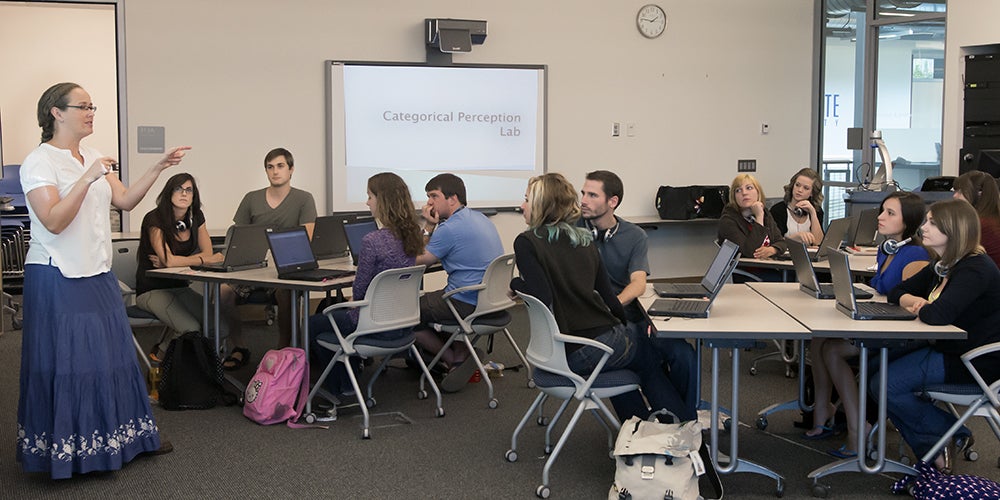 Through this faculty learning community, Temkin Martinez and her colleagues will design and implement different teaching-related projects, leading to publications and presentations in the scholarship of teaching and learning linguistics. Dissemination of this scholarly work ultimately will advance and inform teaching methods, and improve students' learning experience in the field of linguistics.
"Several people in our field have been trying for several years to do different things to improve SoTL and its acceptance as a scholarly field, and to improve the undergraduate experience in linguistics in different ways," said Temkin Martinez. "And finally, what we decided to do was to host a year-long faculty learning community to build capacity."
According to the Linguistic Society of America, "The main objective of this faculty learning community is to strengthen and sustain the development and promotion of scholarly activity in SoTL among linguists and to train a cohort of linguists who will promote inclusivity, mentoring, networking and pedagogical development."
Three non-linguist Boise State faculty also will be acting as consultants on the project: Susan Shadle, a professor and executive director of the Center for Teaching and Learning; Tasha Souza, a professor and associate director of the Center for Teaching and Learning; and Eric Landrum, a professor and chair of the psychology department.
-By Brianne Phillips