The Graduate College recently awarded six Boise State graduate students with conference travel funding for the summer 2019 submission period. Graduate students were presented with the Graduate College Travel Award for the use of presentations at academic conferences including performances, exhibitions, readings and lecture recitals for graduate students in the arts.
The Graduate College Travel Awards, sponsored by the Graduate College, the Division of Research and Economic Development and the Provost's Office, cover up to $500 in conference travel costs per award recipient.
The 2019 Graduate College Travel Award summer awardees are:
Yibo Fan – curriculum and instruction, EdD
Rachel Phinney – health science, MHS
Anu Shrestha – computer science, MS
Amy Wickstrom – early and special education, MEd
Lexy Wilson – social work, MSW
Heather Wright – art, MFA
"The Graduate College Travel Award presented a great opportunity for me to engage with and learn from other occupational health students, researchers and faculty from across the country," said Rachel Phinney, a health science master's student. "The award also allowed me to share some of the important work that's happening at Boise State."
The presentation experience that graduate students gain from academic conferences makes them more competitive in the job market and better prepares them for their future careers.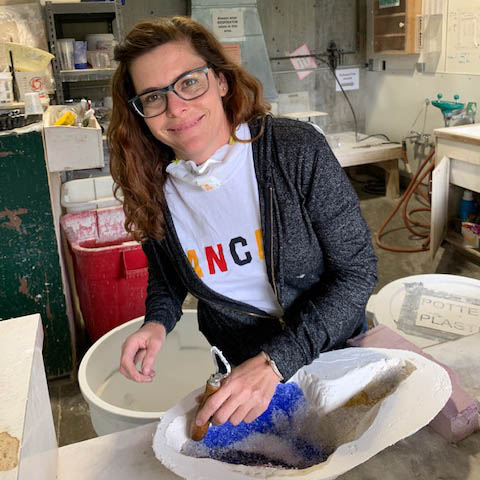 "I was given a great opportunity and fortunate to be able to attend session three in Stanwood, Washington, at the prestigious Pilchuck Glass School. I spent my time learning glass forming techniques such as casting, pâte de verre, mold making and glass blowing," said Heather Wright, a visual arts master's student.
"I was able to give a formal presentation to instructors and the board of directors at Pilchuck of some of my current work at Boise State, as well as my glass making practices at [California State University, Fullerton] in my undergrad program. This program has proven to be invaluable to me in forming relationships with artists, mentors and influencers in the art world. I am so appreciative of the support I have received from the Graduate department here at Boise State," said Wright.
The Graduate College has a limited number of travel funding opportunities, with review/submission periods taking place three times per academic year. In addition to the Graduate College Travel Awards, the Alfred M. Dufty, Jr. Award also funds conference travel opportunities for graduate students.
To learn more about graduate travel funding opportunities, visit the Graduate College Conference Travel funding website at https://www.boisestate.edu/graduatecollege/conference-travel-funding/.