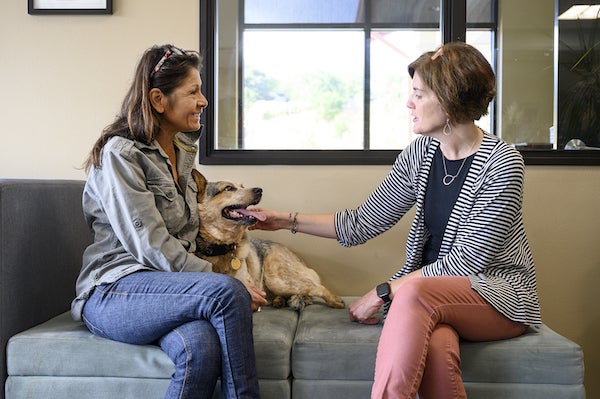 Nicole Lang is a longtime animal lover. She helped found B'ARC Bones, the in-house dog biscuit bakery that raises money for the organization and provides jobs. A drawing of her own dog Lucy adorns the B'ARC packages.
Before joining Boise State University in 2016 as assistant director of field education in the School of Social Work, she was the spokesperson for The Arc, the Boise nonprofit that finds work opportunities for people with disabilities.
While most of Lang's days now consist of finding field placements for Boise State's online masters of social work students across the country, she also is pursuing a certificate in veterinary social work through the University of Tennessee in Knoxville, the first such program in the country.
"People ask if I hang around and pet dogs all day. That would be awesome, but no," said Lang.
The certificate program, she said, trains people to "take care of the people who take care of animals." That includes anyone at the intersection of veterinary and social work practices: pet owners experiencing bereavement; veterinary caregivers who interact with animals and clients; workers in animal shelters; people who encounter animal hoarding or other traumatic situations, and people who work in domestic violence facilities, schools and human health care agencies.
Lang remembers an incident that took place several years ago when she was studying for her master's degree in social work at Boise State. She and her husband were at a medical appointment with their dog and got bad news about their pet's condition.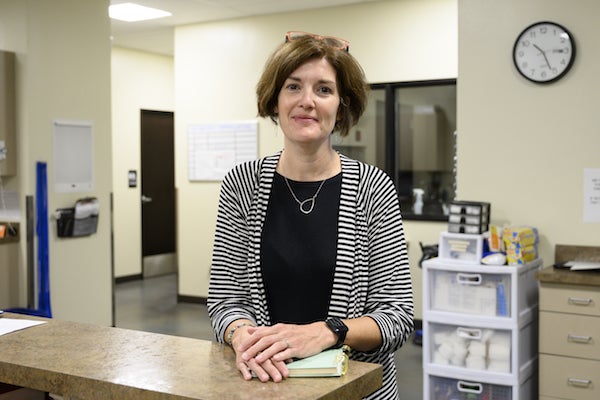 "We were collectively a hot mess, bawling. And I looked at this poor little intern in the room with us and thought, my gosh, what are we doing to her? We have to get it together," said Lang. "These folks struggle with a lot."
The numbers confirm that. According to a recent study in the Journal of the American Veterinary Medical Association, veterinarians are up to 3.5 times more likely to die by suicide than members of the general population. Culprits include long hours, client expectations and euthanasia procedures. Vets who treat companion animals – dogs and cats whom many clients consider family – have especially high suicide rates.
The veterinary social work certificate program requires a keystone project. Lang is completing a 250-hour internship with WestVet 24/7 Animal Emergency and Specialty Center in Garden City. Her work has included counseling clients who have lost a pet or those who are contemplating euthanasia for a pet. She has been able to provide resources, including reading materials and referrals for longer-term counseling for some clients. A new group of interns recently started work at WestVet. Lang is brainstorming ways to help the interns manage their work stress. She hopes to create a grief group in the future for people who have lost their pets.
Having a social worker on-site "is something we've wanted to do in our hospital for a long time," said Jeff Brourman, a veterinarian and regional medical director at WestVet.
"Vets learn over time how to help people through difficult times, but there's limited formal training. The vast majority of pet owners are grateful, but there are times when you can be on the receiving end of all the stages of grief," he said.
Having social workers on staff at veterinary hospitals is still a relatively new idea in the field, and Lang is the first at WestVet.
"I've heard nothing but positives, that it's great to have Nicole around," said Brourman.
For her part, Lang loves her work at the hospital so much, she's lost track of the hours she spends there.
– Story by Anna Webb