Allie Ostrander won the women's 3,000-meter steeplechase for the third consecutive year at the 2019 NCAA Division I Outdoor Track and Field Championships – the first Bronco to win three national titles. At a university that treasures its long sports tradition, Ostrander is peerless.
She counts her first national title in 2017 as a standout. "I was not expected to win. It was my first season trying steeplechase, and it was my first season coming back after injuries," she said. But she pulled away and finished more than five seconds ahead of the second-place runner.
One might wonder about the appeal of the steeplechase, 3,000 meters with barriers "that don't move if you hit them" and water pits "you have to launch yourself over," as Ostrander explained.
"It sounds crazy to say it out loud, but I enjoy it because you never know what will happen."
This spring and summer, the native Alaskan's pace of accomplishment only accelerated. The honors student ended her time at Boise State with a 4.0 GPA and a degree in kinesiology, and began her professional career with the Seattle-based Brooks Beasts Track Club. In August, the Mountain West Conference named Ostrander the female athlete of the year, also for the third consecutive year. That was another record.
"Allie's athletic discipline, like our many honors athletes, carries over into her academic excellence. During her freshman year, she came to my office at 8 a.m. on the Labor Day holiday to discuss how she might excel in the class. This characterized her determined and relentless approach to both her sport and scholarship," said Shelton Woods, associate dean of the Honors College.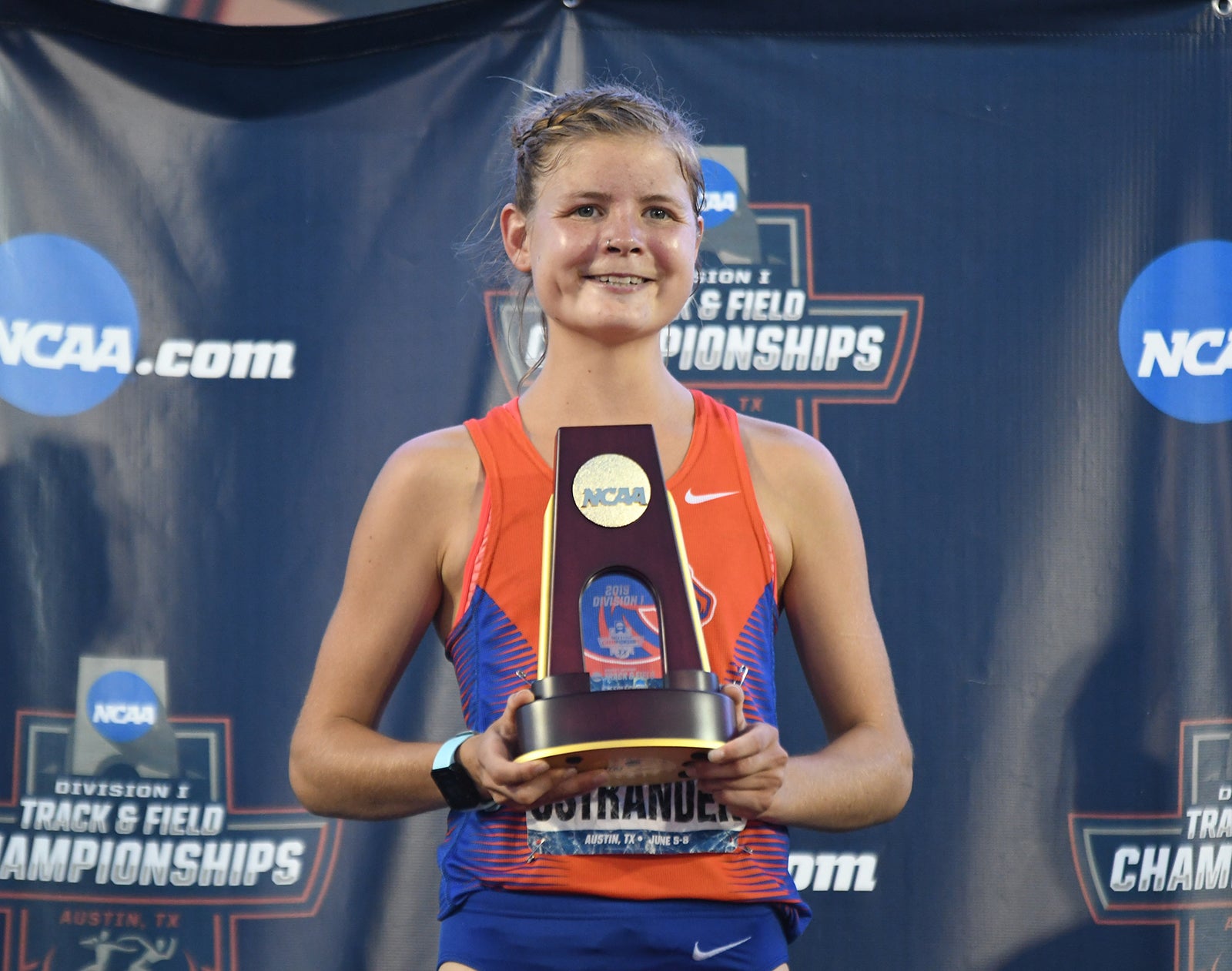 She's currently focused on the World Athletics Championships this fall in Doha, Qatar. After that, she'll work toward the 2020 Olympic trials in June in Oregon.
Ostrander's athletic life began when she was a 5-year-old soccer player more interested in picking dandelions on the field than in scoring goals. "That first season was mainly about having the uniform," she said.
Her dad urged her to stick with the sport. It clicked, and soccer became her "first love" until sophomore year of high school. She realized she was a better runner.
"I found that cross country and track people were my kind of people. We understood each other," said Ostrander.
Just as running was a passion early on, so was performing strongly in the classroom.
"I remember as far back as second grade, trying to get good grades. It's a thread that goes through my life. Anything I'm invested in, I'll be fully invested. It's not something I can turn off."
When Ostrander isn't running, she's an avid reader (a recent favorite, "Educated," by Tara Westover). She's taken up rock climbing and enjoys cooking with her sister, Taylor, also a graduate of Boise State's kinesiology program who works in cardiac rehabilitation at a Boise hospital. Ostrander conspired with her future brother-in-law, Conor, to plan his surprise proposal to Taylor this spring. Naturally, it took place on a running trail atop a mountain. Ostrander snapped the photos.
A stellar athlete and scholar, Ostrander is known for her deadpan wit – read her tagline: "I run sometimes," and original run-centric haikus on Twitter. She has earned national coverage for promoting positive ways to talk about female athletes' bodies.
"I believe in speaking out for things I believe in," said Ostrander. "I like to be in the lead."