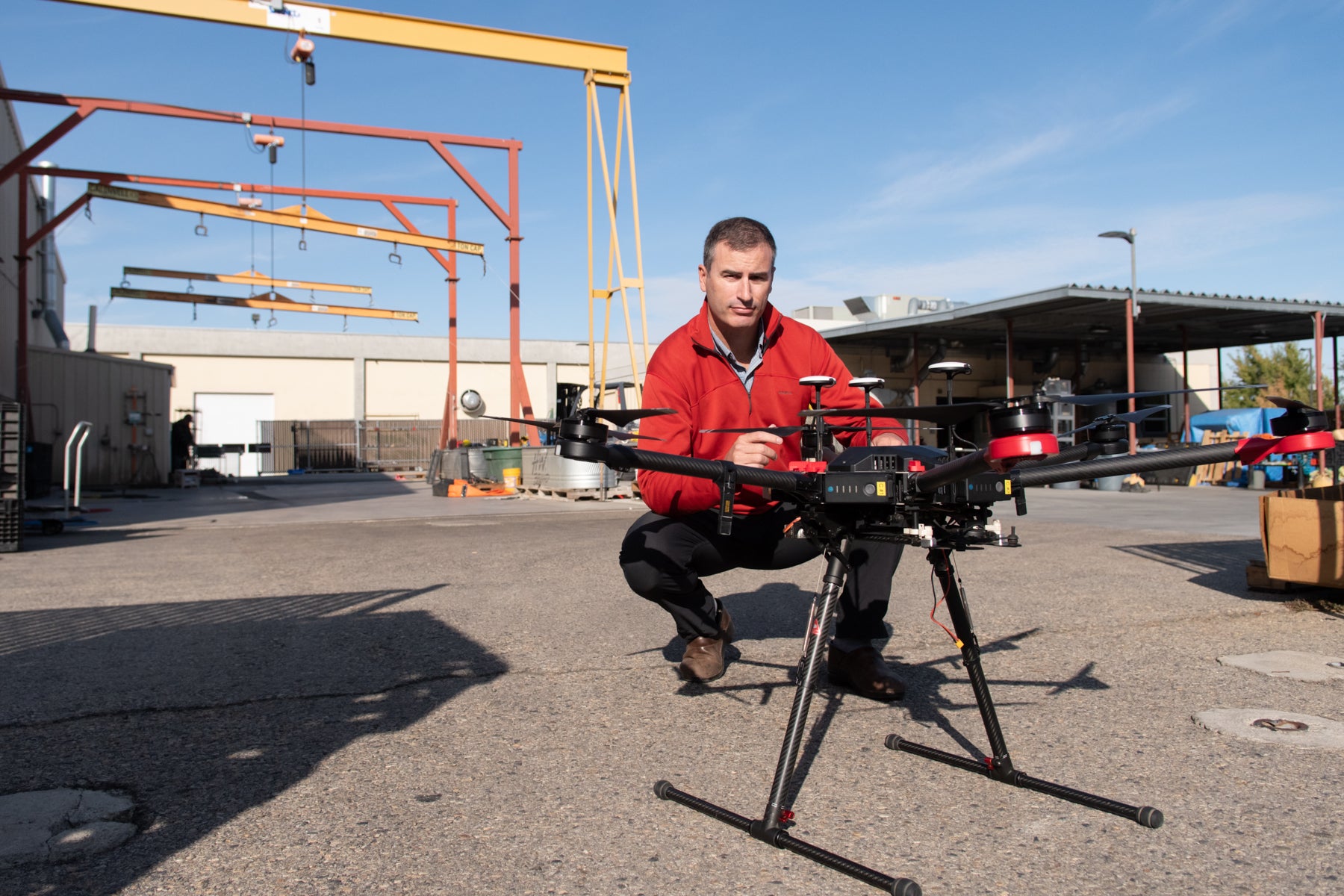 After 20 years on the frontline fighting wildfires across the nation, Boise State alumnus Matt Dutton (MA, athletic leadership, '16) was ready for a change.
"I was on the road every summer, my kids all have summer birthdays and I was missing out," Dutton said.
In 2014, Dutton and his family moved to Boise from Los Alamos, New Mexico, and he took a job in training and development with the National Interagency Fire Center, which is made up of eight different agencies and organizations providing support for wildland firefighting. Now, his job is to recruit and teach firefighters to become drone pilots in the center's unmanned aerial systems (UAS) program.
The UAS program flies drones into fire zones to look for hot spots and monitor conditions. They also are experimenting with dropping small payloads to aid in fire suppression.
"The main benefit," Dutton said, "is we can transfer risk from our crews on the ground to the drones."
The drones are able to fly into a narrow canyon and monitor conditions, for example, relieving a crew from having to enter a potentially dangerous situation for the same result. Some of the drones used in the field also are able to fly at night or through smoke, which is prohibited by manned aircraft within the fire service.
"This enables us to constantly monitor conditions and supplement what we gather from our traditional manned aircraft," Dutton explained.
After settling into his new job at the fire center, Dutton saw opportunities for improvement in the structure and management of his program and sought to better equip himself to address those issues by pursuing a secondary degree at Boise State. As a three-sport athlete in high school and captain of his college rugby team, Dutton was drawn to the Masters of Athletic Leadership program.
The value of the program, Dutton said, is it "supports anyone, from any profession, on whatever path they are on. Having access to different perspectives and experiences is invaluable."
One particularly impactful course was organizational communication with John McClellan, an associate professor of communications.
"It blew my mind and opened my eyes to different ways of thinking. The course made me see how much communication impacts organizations," he said. "Communication is the foundation for an organization's potential and culture does not lie. How we communicate and assign meaning matters, since it has so much impact on any team's outlook and resiliency."
Dutton counts McClellan, athletic leadership program director Scott Moorcroft and Tyler Johnson, a professor of kinesiology, as mentors and friends with whom he continues to keep in touch.
"I still reach out to them and work through ideas of how I can approach issues at the fire center, in sports, or just in life in general," he said.
During his time at Boise State, Dutton also made connections with the men's rugby club. In 2018, he took over head coaching duties. Dutton has played rugby since high school and was recruited to play for Oklahoma State in college. After graduation, he continued to play in leagues around the country before his firefighting career became his primary focus.
"After we settled in Boise, I really wanted to find a way to plug back into the sport and coaching aligns with my passion for helping people develop," he said.
As a Boise State alumnus, Dutton now is helping others acquire the same leadership and training skills that have enriched his professional life, by helping Boise State students pursue opportunities at the fire center, through the Career Center's Work U program and by identifying programs that will help his rugby club officers learn how to manage the team.
"The secret sauce for the rugby team, or at the fire center, is when we can align to a purpose, and align our attitudes toward that purpose, we can achieve greater things faster," he said.