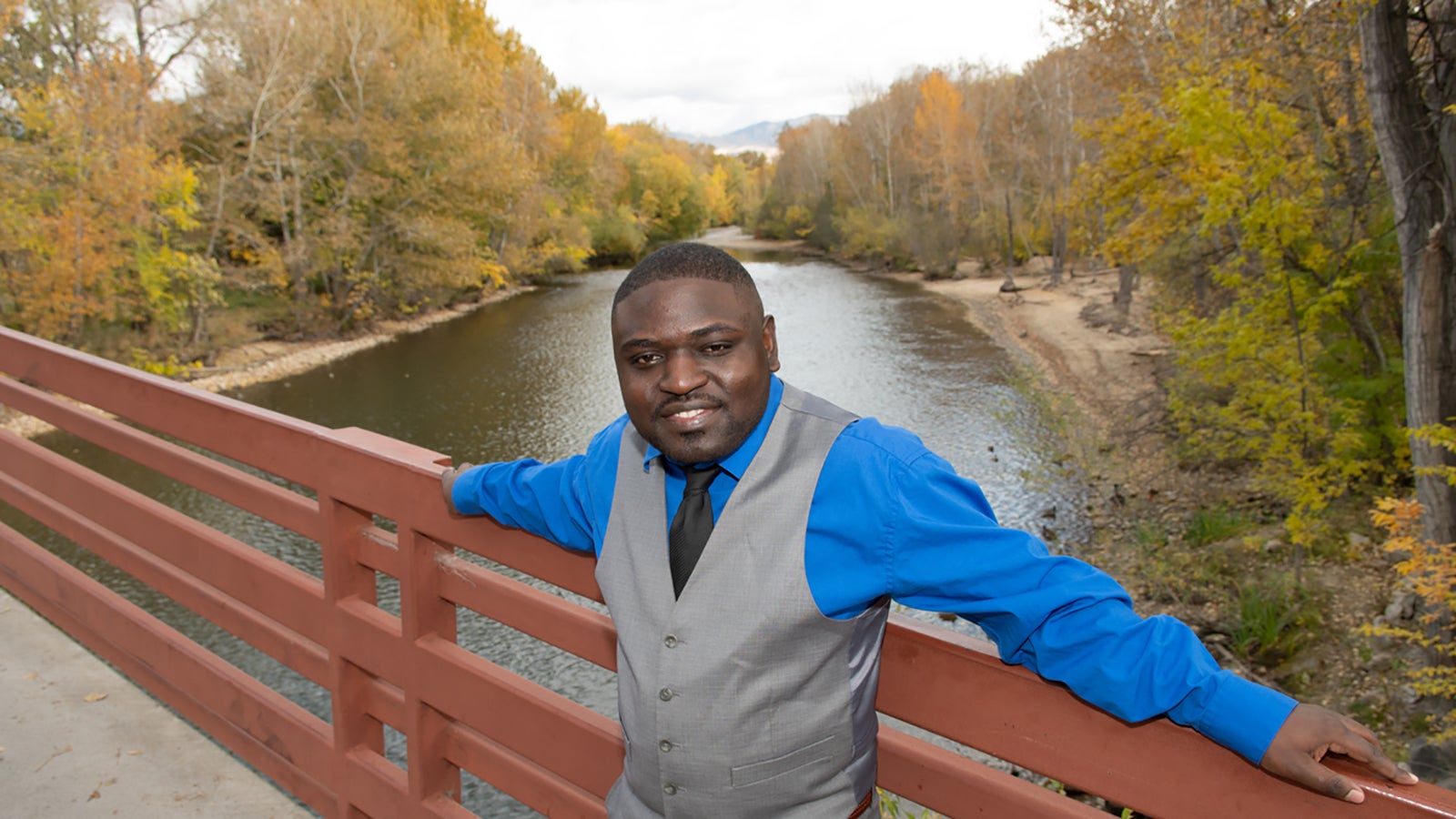 SOCIAL WORK STUDENT BECOMES A BRIDGE FOR FELLOW REFUGEES IN BOISE
–By Brianne Phillips
True strength is measured not only by a person's ability to overcome great struggles, but by their determination to turn and grasp the hands of those who still struggle. Boise State University senior Shukuru Kamulete is an example of just such strength.
Kamulete came to Boise at age 14 as a refugee from the Democratic Republic of Congo, and now is gearing up to graduate from the social work program at Boise State. Working under the mentorship of Dr. April Masarik, an assistant professor of psychological science, Kamulete is supporting research on refugee resilience and stressors in the American education system with his talents as an interpreter. In addition to learning English upon arriving in the United States, he also speaks Swahili, Kibembe (a language found in Congo) and French.
"At our initial meeting when I told him about my research, Shukuru said, 'I want to get involved. I don't know much about research, but I know Swahili and I want to help. Teach me,'" recalled Masarik. "This is Shukuru – he wants to help and get involved. He serves the community, he is a learner, a courageous leader and positive role model."
Kamulete also has worked with Masarik to create focus groups of Boise State students who identify as refugees in order to ascertain what stresses caused them to struggle, as well as what helped them to be resilient in college. He presented the results to Boise State campus administrators and leaders, as well as the International Rescue Committee.
"As a refugee myself, I understand the struggle we go through in our everyday lives, especially here at Boise State," said Kamulete.
On campus, Kamulete is a leader in the Multilingual Students Alliance, an organization run by students who have a refugee background and rely on the group for support and resources. He and fellow student Fowzia Adan organize events.
"We hope to advocate for students, serve as mentors for other students, educate people about strengths and issues of refugee and minority students, and enhance understanding and cooperation between traditional students and professors here at Boise State," said Kamulete.
According to the Division of Student Affairs and Enrollment Management, 192 students who self-identified as refugees were enrolled at Boise State for the fall 2019 semester.
"In his 'free time' Shukuru is out in the community, helping recently arrived refugees navigate the grocery store, the Department of Motor Vehicles and doctor's appointments. When does he sleep?" said Masarik. "What amazes me the most is that despite his active social and professional life, he is always calm and collected. And his laugh is contagious!"
"Half the time, we are focusing on the negative, but I hope that the families can showcase their strength in the research."
—Shukuru Kamulete
From picking up incoming refugees at the airport, to teaching them how to pay their power bill and to drive with their new permits, to familiarizing them with the English language and American institutions, Kamulete has supported refugees in Boise in many ways, all while pursuing a degree, interning and supporting research.
Kamulete has high hopes for their research, not only that it will support and smooth the path of the refugees who are participating in the study and those to come, but that it will give them an opportunity to reveal their incredible resilience.
"Half the time, we are focusing on the negative, but I hope that the families can showcase their strength in the research," said Kamulete.
As more refugees seek safety and refuge in Boise and in Idaho, Kamulete offered two tips that anyone can implement to help newcomers feel welcome and happy in their new homes.
"Just be open hearted, and willing to listen to them. If we don't talk to them and try to understand, nothing can ever change. And advocacy: not everyone is willing enough to really speak up to these issues. Use your voice to do what you can."
Boise has proudly served as a resettlement city since 1975. In late 2019, Idaho Gov. Brad Little approved the continued support of refugees by signing off on two Idaho counties' plans to continue accepting refugees.