Thirteen students from the Financial Management Association (FMA) student group, accompanied by one faculty member, traveled to New York City in early October and met with financial industry leaders. The group visited with several high profile financial institutions to learn more about cutting-edge issues involving financial systems. The firms visited included Goldman Sachs, PJT partners, Bloomberg, Investopedia, Dotdash and the Federal Reserve Bank of New York.
Jared Egginton, an assistant professor of finance and the advisor of FMA, accompanied the students.
"Meeting with individuals from top firms helped the students better understand future career opportunities, broadened their networks and allowed them to glean information that will make them more successful going forward," Egginton said.
Brian Karsann, a junior majoring in accounting and president of the FMA student group, shared what he gained during the New York experience.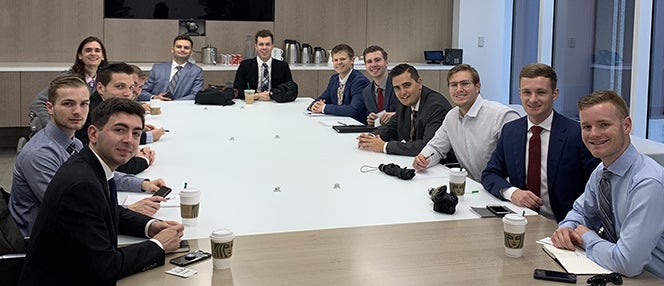 "My perception of the finance world shifted after visiting New York with the Financial Management Association," said Karsann. "I'm grateful for the information I gained from visiting New York and for those people that donated their time to us. After visiting these financial institutions, it certainly helps me connect the direction I want to go after school with what I need to do to get there. The biggest thing I gained was understanding the significance of hard work and where it will take you."