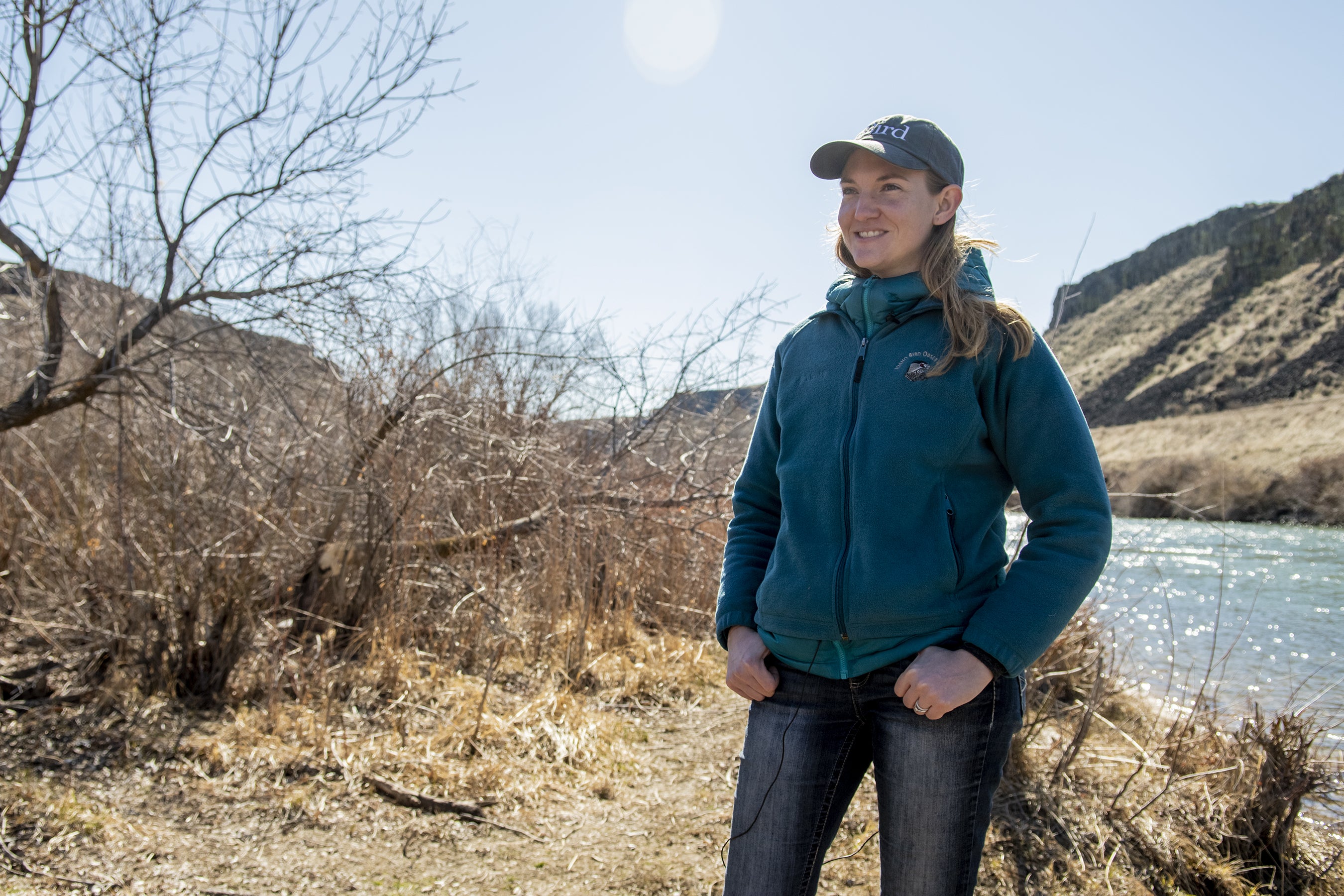 Many people have witnessed the spectacular beauty of a hummingbird dip and weave in their backyards or in the wild, but few have held the delicate bird in their hands and watched it fly away.
As the education and outreach director for the Intermountain Bird Observatory (IBO), Boise State alumna Heidi Ware Carlisle (BA, biology, '11; MA, biology, '15) facilitates experiences for the public that are decidedly scientific – like learning about banding and weighing hummingbirds, songbirds and owls – but border on magical.
"It's fun to visit us – that's the first thing I tell people about IBO," Carlisle said. "We're opening up this whole new world to kids and the first way to do that is to bring them down and put a little bird in their hand and watch what happens."
Carlisle first was introduced to the Intermountain Bird Observatory, a nonprofit research group associated with Boise State University, as an undergraduate when she used some of their data to create a poster for the annual Undergraduate Research Conference.
"It was my first experience meeting and talking to other scientists," Carlisle said. She knew she loved birds, but this gave her the opportunity to experiment with the field of research and decide whether or not she wanted to pursue a career as a scientist.
Then, the summer before her sophomore year at Boise State, Carlisle made her first trek to the Intermountain Bird Observatory's Lucky Peak research station.
"It was summer breeding season, they were banding birds and within an hour I knew that this is what I want to do, this is the job I want," she said. "I started telling our research director that I wanted his job when I grew up. From then on, I just never left."
As part of its dual mission to conduct research that benefits bird conservation and engage with the community, the Intermountain Bird Observatory runs three research stations – one at Lucky Peak, Idaho City and on the Boise River. At these stations in the fall and spring, members of the public can observe bird banding, raptor watching and other research projects. They also learn what year-round and migratory bird populations need to thrive in the Boise area.
Another educational highlight for Carlisle came when, as a Boise State graduate student, she worked with associate professor of biology Jesse Barber to study how noise pollution affects birds.
Using the Lucky Peak research station as a control site, the researchers played traffic sounds in the middle of the forest to observe how birds responded to a "phantom road," as Carlisle called it. Their novel research showed that nearly one-third of birds avoided the area, proving that the noise degraded the value of bird habitat. Other researchers are now building off the duo's data.
Carlisle's passion for research and birds finally landed her a dream position in 2014 when the Intermountain Bird Observatory hired Carlisle to spearhead programming and outreach for K-12 students at its Boise River research station.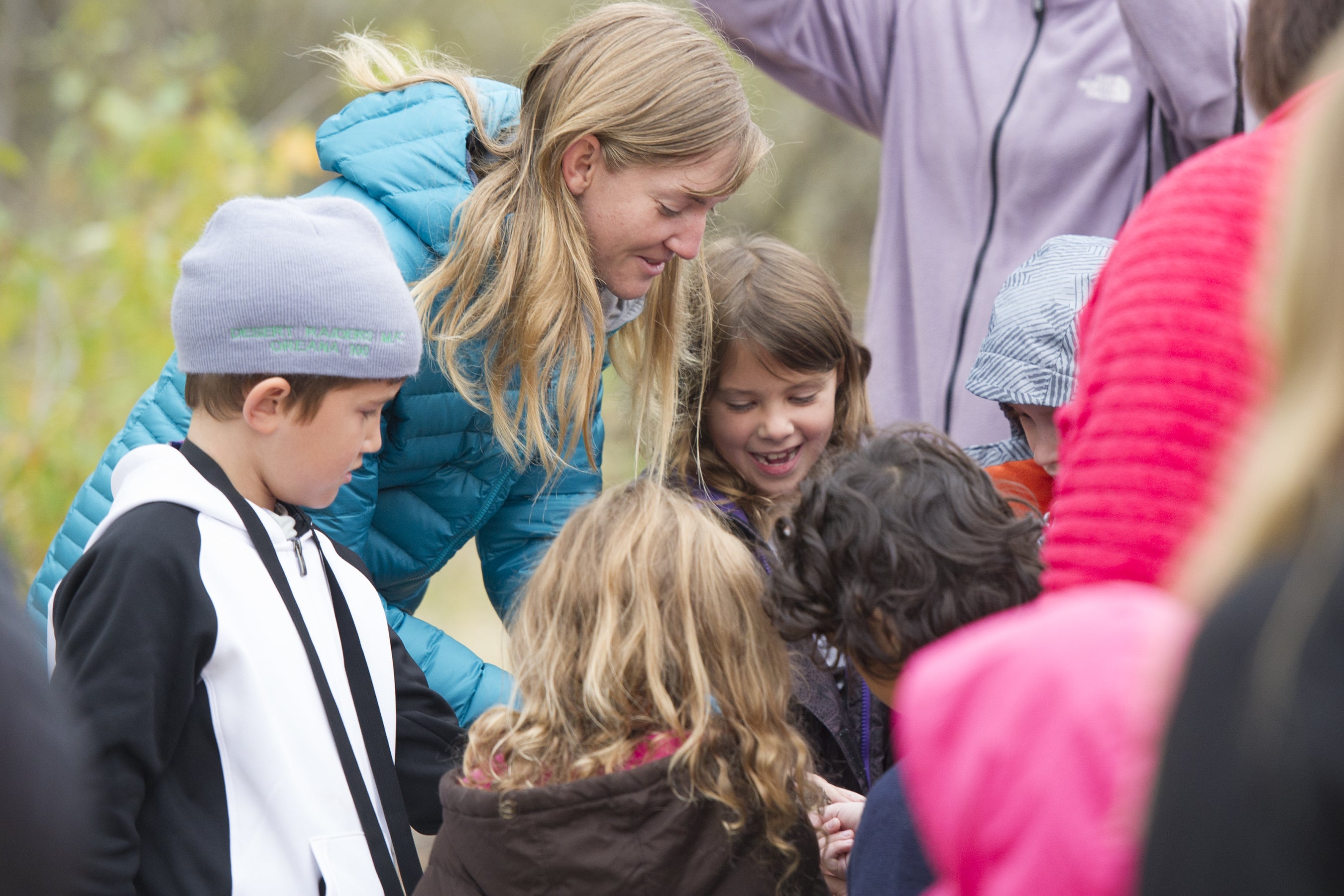 "Our sites are like outdoor classrooms," Carlisle explained. "We give kids a stronger and more fun connection to nature and science than they might be able to get in a traditional classroom."
For instance, a recent class of second graders were learning about tally marks in their classroom, so Carlisle tasked them with tallying seedling survival – alive versus dead ­– at the Boise River site.
"When I got the data back I thought it was wrong because we had more than 50 percent survival but, after sending out undergraduates [to verify the tally marks], it turned out the second graders were right," Carlisle said.
In 2018, Intermountain Bird Observatory staff hosted 16 schools and more than 800 visitors at its Boise River research station alone. In fall 2019, they hosted 21 school field trips and more than 1,000 visitors. The field trips are made possible thanks to donations from the community, Carlisle explained.
"Both this year and last year we filled every date that we made available," she said. "We're hoping to add more available fall dates next year if funding allows, and also begin regular springtime field trips to visit our habitat restoration project."
The success of Carlisle and the Intermountain Bird Observatory's work depends, in large part, on the strength of its collaborations. In 2018, the nonprofit began habitat restoration at its Boise River research station with the help of Boise's Golden Eagle Audubon Society. More than 50 species of birds are banded there every year. The bandings allow scientists to look at long-term trends, track whether populations are going up or down, and study how valuable the river habitat is for birds – what do they get out of it and what do they still need?
Students at Boise State and the College of Western Idaho also are frequent collaborators.
"Our goal is to do habitat restoration that involves the community from the bottom up, where they're actually working with Audubon society to grow seedlings, putting them in the ground, and then having kids be the ones who are experimenting and testing and seeing whether our habitat restoration is successful," Carlisle said.
If it's not obvious, Carlisle loves her job.
"I love my job," she said. "I get to spend every day studying what I love but also getting to share with other people what I love. As a scientist, you sometimes forget how cool your job is but for me, I get a daily reminder of how lucky I am to do this work and help these really cool species live in Boise and survive; I get to conserve them and get other people excited about conserving them as well."