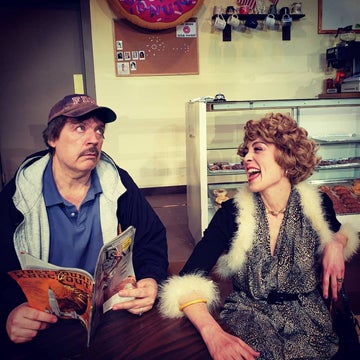 Many Boise State employees have rich outer lives – that is, lives that they richly lead off campus. Karen Marker, a grant proposal strategist and writer in the College of Engineering, is one such employee. Marker soon will be performing in a local production of "La Cage aux Folles" (often known by its 1996 film reproduction, "The Birdcage").
The production will be showing Nov. 29-Dec. 21 at the Alley Repertory Theatre. Marker acts in both professional theater settings like this one, and also in community theater, which is accessible to anyone with some ability who would like to give it a try. Below, she talks about her motivations for performing community theatre and the challenges and thrills that live theatre impart.
Q: When did you start performing with community theatre and why?
Marker: I started performing in community theater while still in high school, and first appeared in a community theater production of the Gilbert and Sullivan show, "The Pirates of Penzance." At the time, it was a natural extension of performing in high school productions. Fortunately for me, I started performing when I was too young to realize I should be scared and my public high school was so small that everyone who wanted to perform could.
Q: What is the biggest reward of acting for (and with) the Boise community?
Marker: I think community theaters are a wonderful part of any community fabric and enrich Boise in two specific ways: First, for performers, they invite anyone to engage in nourishing their creative side; the fact that anyone who wants to try can audition is an amazing thing. It is also a safe and structured place to walk the tightrope of live theater performance, to feel deep emotion, and to play with others doing the same thing, of all ages and in numerous cities. Second, community theater offers Boise audiences an entertaining, inexpensive and often thought-provoking night out. What you see on stage is fun, and sometimes engaging in your own audience noise and reaction is a treat as well.
Q: What is challenging about your role in the play?
Marker: Some parts are demanding in the range of emotional expression or sheer activity. This isn't one of those kinds of roles. Rather, it satisfies an itch of pushing my performance development. In this role, I'm performing with a new group and am getting the opportunity to fine-tune my comedy with experts who are really good at it. This is also a show that will fall apart without a strong ensemble performance (some shows are more about one or two characters), so I feel some pressure to offer a character that is interesting to watch, and help provide a fully-rounded experience for audiences. Ensemble shows are also my favorite to be in and to watch.
Q: How can others get involved in community theatre?
Marker: First, go see some community theater productions to get a sense of their quality, how many shows they put on a year and the types of shows different theaters put on. I have performed here in Boise in community theaters like Boise Little Theater and Stage Coach Theatre, among others. You can also find a list of other area community theaters at the Idaho Association of Community Theaters webpage. See theater websites for production descriptions and audition information.