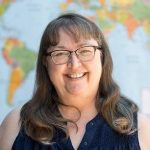 The Boise State community is invited to celebrate the work and retirement of Merrilou Burris at a reception from 4-6 p.m. Monday, Dec. 16, in the Student Union Building Lookout Room. Light refreshments will be served.
Burris is retiring after serving as a management assistant, first for the International Student Services office and then for the Center for Global Education, where she supported Boise State's students and staff for the last 10-plus years. Prior to joining Boise State, Burris implemented her skills, care and compassion to support a number of industries, most notably as an operations manager for the international relief and development organization, World Concern.
Burris was instrumental in bringing several units together during the creation of the Center for Global Education. She helped develop a true team spirit, always overcame challenges with humor and collegiality, and continually demonstrated an unshakable commitment to the well-being of Boise State's international students. Burris has been a valued touchstone for everyone around her.
"She is always smiling and offers the best words of wisdom. Merrilou is someone who genuinely cares and has made a huge impact in my life. I will miss her dearly and her absence on campus will definitely be felt," said Busayo Apampa, an international graduate student.
After her retirement, Burris will remain in the Treasure Valley with her daughter and granddaughters. She looks forward to some freedom in her schedule to read more and plans to seek out volunteer opportunities in the Nampa area since, as Burris said, "helping people has always been my thing."
"I will miss the people but I will not miss the commute," Merrilou joked.
Please join the Center for Global Education in celebrating and bidding a fond farewell to Merrilou Burris.