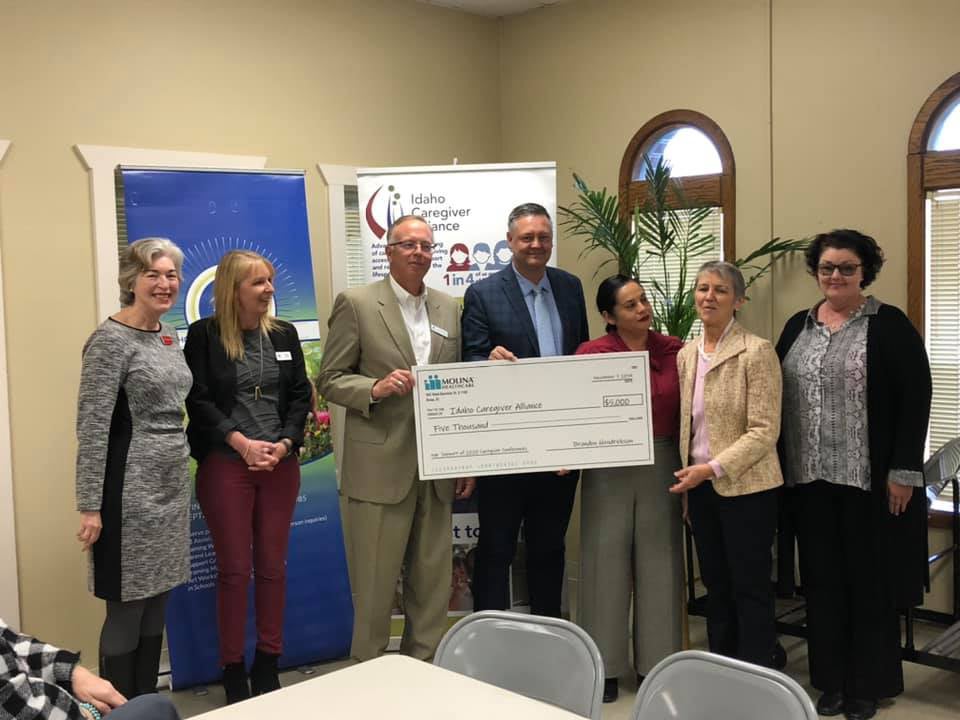 On Nov. 7, Tim Dunnagan, dean of the College of Health Sciences, accepted a donation of $5,000 from Molina Healthcare of Idaho on behalf of the Center for the Study of Aging and the Idaho Caregiver Alliance. This donation will help support Idaho Caregiver Alliance programs for 2020. These programs aim to advance the well-being of caregivers by promoting collaboration that improves access to quality support and resources including respite for family caregivers across the lifespan.
Family caregivers makeup hundreds and thousands of Idahoans, creating an unpaid invisible workforce with little support. In an effort to increase support and resources for unpaid family caregivers across Idaho, Molina Healthcare Systems, the Boise State Center for the Study of Aging and the Idaho Caregiver Alliance are working to increase funding and support of programs for this growing population.
"Unpaid family caregivers in Idaho provide over 171 million hours of care at an estimated economic value of $2.3 million," said Sarah Toevs, a professor for the Department of Community and Environmental Health and director of the Center for the Study of Aging. "Caregivers need support to sustain and expand their caregiving capacity and avoid costly health challenges, and we're grateful for assistance from companies such as Molina Healthcare."
The Idaho Caregiver Alliance, a collaborative initiative of the Idaho Commission on Aging and the Center for the Study of Aging at Boise State University, serves as the voice of family caregivers. The Idaho Caregiver Alliance's network includes more than 700 family caregivers, public and private agencies, and organizations. The Idaho Caregiver Alliance sponsors an annual caregiver conference, statewide respite summits, and provides access to resources through a website and social media.
"At Molina, we understand the challenges and demands that being a full- or part-time caregiver presents," said Lorena Riffo Jenson, director of community relations and engagement for Molina Healthcare of Idaho. "We hope that this donation will help the Idaho Caregivers Alliance support even more people in their efforts to help care for their loved ones."
Molina Healthcare, a FORTUNE 500 company, provides managed healthcare services under the Medicaid and Medicare programs and through the state insurance marketplaces. Through its locally-operated health plans, Molina Healthcare served approximately 3.37 million members nationally as of June 30, 2019.
– By Taylor Music