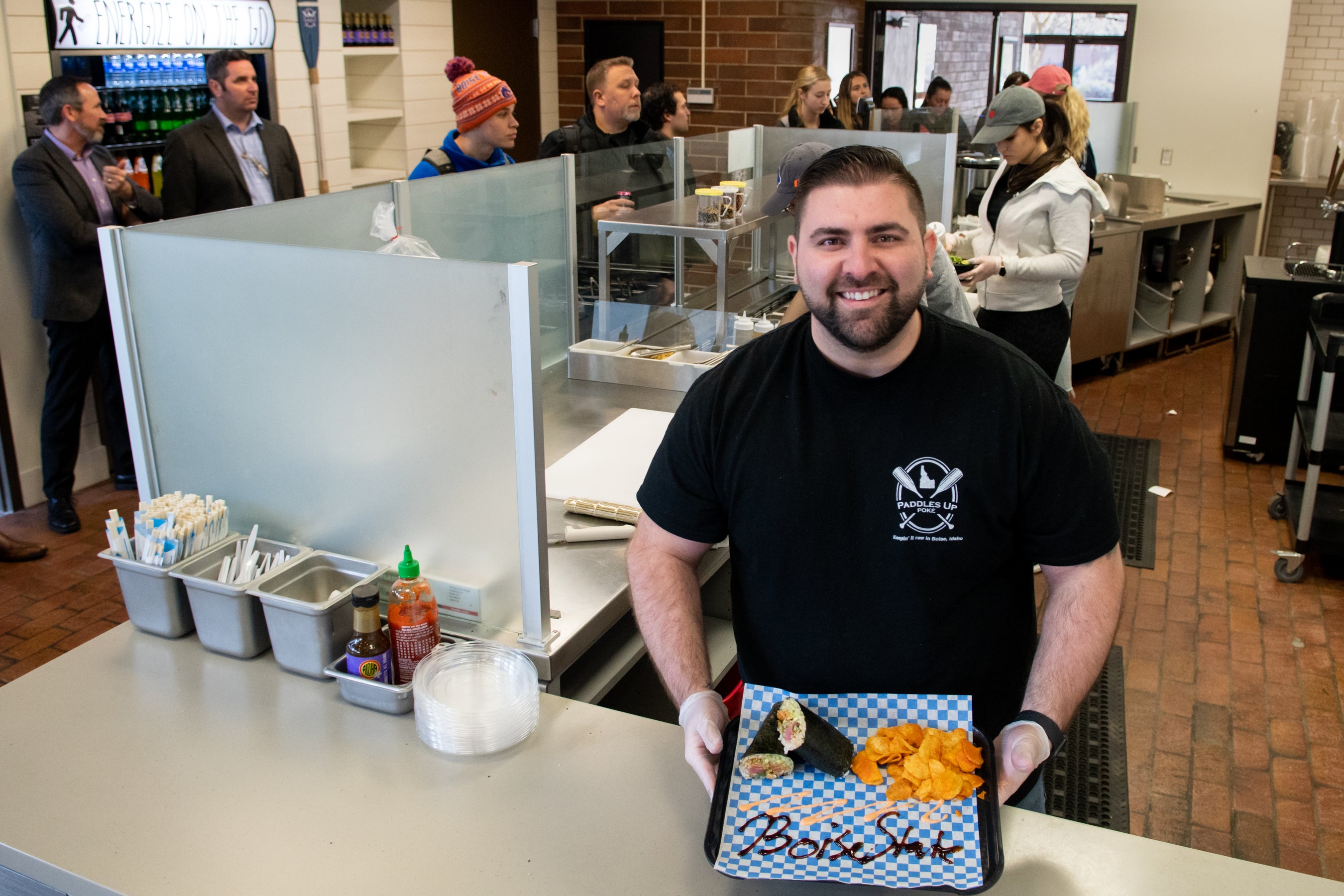 Dan Landucci (BA, communication, '13) has always had an entrepreneurial spirit.
"As a kid, there was a rumor I put the ice cream man out of business in my neighborhood," he said.
While the story may be more family legend than fact, Landucci did canvass his block with goodies bought in bulk and resold to neighbors in his hometown of San Jose, California.
Landucci has moved on from pulling a red wagon full of snacks and now operates four locations of Paddles Up Poké. The newest location opened on the Boise State campus in January, 2020.
After graduating from Boise State University, Landucci worked in marketing and branding for local law firms until 2016 when, frustrated by the lack of quick, healthy lunch options near his office, the idea for Paddles Up Poké was born.
"I basically set out to meet a demand I personally had," he recalled. "And it was always a dream of mine to run a restaurant."
After concepting three different restaurant ideas, Landucci settled on a poke – a traditional Hawaiian dish composed of sushi-grade raw fish layered on vegetables and rice – over more traditional fare such as sandwiches or hot wings.
"I grew up deep sea fishing and my relatives own abalone farms," he said. "I have always been comfortable around processing and preparing fish."
"Plus, poke is my favorite food," Landucci added. "I have been eating it everyday for three years and I am not tired of it yet!"
Landucci and his family used their savings and took on extra jobs to finance the business. Money was tight as a booming construction market forced delays that pushed the restaurant's opening back again and again. When the first location finally opened in downtown Boise, Landucci was down to his final $50.
Landucci credits his grandfather with instilling in him a commitment to risk taking and hard work as well as a passion for food.
"He moved to the U.S. to escape the Assyrian genocide," Landucci said. "He went on to found a construction company and then worked as a chef on the side. To see him do so much after starting with nothing inspired me to follow in his footsteps."
Leaving a stable career to start a restaurant with a young family to provide for was a risk, but Boise has embraced Paddles Up and the business is growing.
"There is such a strong commitment to local in this town," Landucci said. "It is something that I saw throughout the process of starting the business. Everyone, from the city clerks to the lawyers, were committed to seeing me succeed. All those people that helped me were at our grand opening and they have continued to support us."
The restaurant chain, in turn, supports the community by donating $50,000 to local charities and partnering with Boise State's own Bronco Athletics. During game seasons, the Paddles Up crew feeds the football and women's soccer teams every week.
The new Paddles Up location in Boise State's Science and Education Building will bring Landucci and his wife, Laura –also an alumna – "full circle" in their journey. The pair are high school sweethearts who moved together from northern California to attend Boise State. Landucci is the first person in his family to attend and finish college.
Aiming to meet a more student-friendly price point the campus location menu items will cost roughly 20 percent less than other Paddles Up locations. As the largest fish buyer in Idaho, Landuccci was able to partner with his distributors to keep costs lower for this new location.
Campus customers will be able to build their own poke bowl or a sushi wrap, as well as purchase grab-and-go items. Landucci also is hoping to maximize the location's setting, which opens onto the Greenbelt, to create a space where students can gather and enjoy a locally-made kombucha or other drink between classes.
The new restaurant marks an important step for the university, as well: It will be the first dining option on campus managed by a third party. University leaders saw the passion Landucci puts into his restaurants and were confident he could be a strong partner, according to dining services director, Rich Weigel. "We felt it would be a good fit because Dan is an energetic alumnus, very committed to continuing to be a part of Boise State and excited to offer his products to the students and members of our community," he said.
Landucci encourages the campus community to stop by and say hi as the university moves into spring semester. "We're a local business, owned by alumni, all about Idaho, proud Broncos all about Boise State and committed to feeding students good, healthy food," he said.