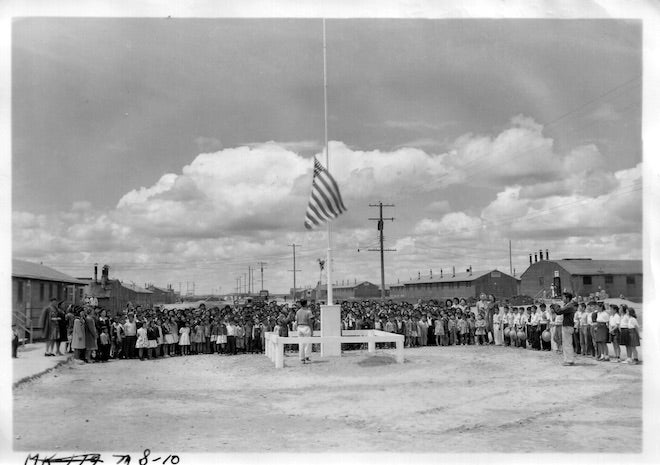 As wartime hysteria mounted after December 1941 following Japan's attack on Pearl Harbor, the U.S. government began forcibly relocating West Coast individuals with Japanese ancestry to 10 inland sites. Hunt Idaho's Minidoka War Relocation Center opened in August 1942.
Robert C. Sims, the first dean of Boise State University's College of Social Sciences and Public Affairs and a professor in the Department of History, discovered documents related to the World War II Minidoka Relocation Center for Japanese and Japanese Americans soon after his arrival at Boise State. This was the beginning of his life's work: researching, documenting, writing and lecturing about life in the incarceration centers in general, but particularly Minidoka.
A new book, "An Eye for Justice: Robert C. Sims and Minidoka" features his writing on topics ranging from the Japanese American experience in Idaho, to other relocation centers in the U.S., to Japanese American soldiers.
Sims had long talked about writing a book, said Cheryl Oestreicer, an associate professor and head of Boise State Special Collections and Archives, but passed away in 2015 before that could happen. After the university acquired Sims' archives, Oestreicher worked with his widow Betty Sims, his daughter Sarah Sims, historian and Boise State alumna Susan Stacy, and others on this compilation of his work. Oestreicher wrote a chapter for the book as did Hanako Wakatsuki, chief of interpretation and education at the Minidoka National Historic Site, and a Boise State alumna.
"This project was four years in the making, and it is exciting to see it come to fruition," said Oestreicher.
The book is available at Rediscovered Books in Boise.
Minidoka events
The exhibition, An Eye for Injustice: Robert C. Sims and Minidoka will be up through April 4 in Boise State's Albertsons Library.
An exhibition, Righting a Wrong: Japanese Americans and World War II will be up through April 6 at the Idaho State Museum (610 Julia Davis Dr.) in Boise. For more info: http://www.minidoka.org/blog/2019/11/18/smithsonian-exhibit-about-wwii-incarceration-on-display-at-idaho-state-museum
A Minidoka Civil Liberties Symposium will take place 6-7 p.m. Wednesday, Feb. 5, at The Community Library in Ketchum. For more info: http://www.minidoka.org/events/2020/2/5/minidoka-civil-liberties-symposium-at-the-community-library-ketchum-id
A Minidoka Civil Liberties Symposium, also will be held 6-7 p.m. Thursday, Feb. 6, at Boise City Hall. For more info: http://www.minidoka.org/events/2020/2/6/minidoka-civil-liberties-symposium-at-boise-city-hall-boise-id
Artist talk: Photographer Teresa Tamura and art historian Barbara Johns will speak from 5-7 p.m. Thursday, Feb. 13, in Boise State's Student Union Bishop Barnwell Room. The talk will coincide with the exhibition Honoring Shiren: The Japanese Experience at Minidoka, featuring photographs by Tamura, on display until Feb. 23 in the Student Union Building Fine Arts Gallery.
Screening of Minidoka: "An American Concentration Camp," at 5 p.m. Wednesday, Feb. 19, at the Idaho State Museum. For more info: http://www.minidoka.org/blog/2019/11/18/smithsonian-exhibit-about-wwii-incarceration-on-display-at-idaho-state-museum