The Great Plains Art Museum at the University of Nebraska will feature Kirsten Furlong, director of galleries and a lecturer in the Department of Art, Design and Visual Studies, as the 2020 Elizabeth Rubendall Artist in Residence.
Furlong creates images and objects about human, animal and plant interactions, and interprets natural history and current grassland ecology in the Great Plains and beyond through drawings, monotypes and paintings. Bird species – past and present – insects, animals and plants are depicted along with mark making inspired by the lines and textures of the prairie.
During her residency, Furlong will create an artwork that will become part of the museum's permanent collection. Visitors will be able to see the artist in action March 17-21 and June 2-6.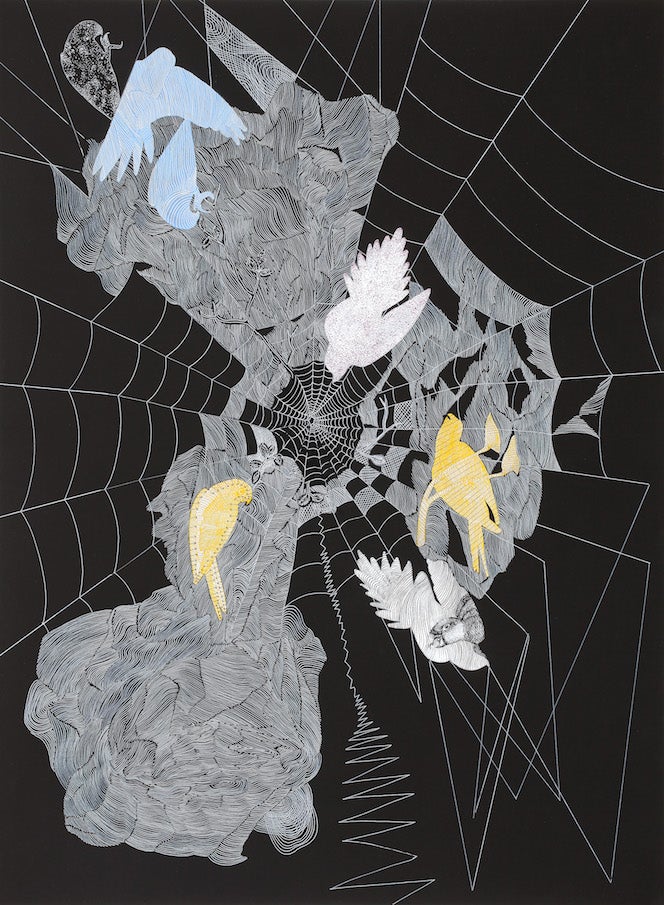 The museum also will display Furlong's work in an exhibition titled "Over the Edge of the World" in the lower-level gallery from March 6 through June 27. As part of her time, she will lead a kite-making workshop on Saturday, March 21, where visitors will have the opportunity to interact with the artist, learn about Great Plains birds, and create and assemble their own kite. Furlong also will give a short gallery talk at the June 5 First Friday.
Furlong uses detail, repetition and patterns inspired by those encountered in the natural world as a representational tool, while also using mark making to express empathy, loss and longing.
"The museum is thrilled to have Kirsten Furlong as our 15th Elizabeth Rubendall Artist in Residence," museum director and curator Ashley Hussman said. "Her work is both visually striking and thought-provoking, and speaks to timely issues that the museum and Center for Great Plains Studies are exploring this spring."
Furlong received a bachelor's degree from the University of Nebraska at Omaha and a Master of Fine Arts degree from Boise State University. Furlong's work has been shown nationally and internationally in solo and group exhibitions. Experiences at artist residencies in Denali National Park in Alaska, Signal Fire and PLAYA in Oregon, Jentel and Brush Creek in Wyoming, Montello Foundation in the Great Basin of Nevada, Prairieside Outpost in Kansas, and Good Hart Artist Residency in Michigan have created the foundation for many of her recent projects.