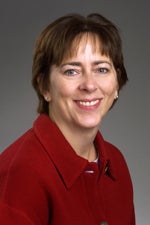 School of Nursing faculty member, Molly Prengaman, MS, RN, FNP-BC, joined Center for Health Policy (CHP) researchers Ed Baker, PhD, director of the CHP, and Dr. David Schmitz, M.D., affiliate faculty at the CHP and associate director of rural family medicine at the Family Medicine Residency of Idaho, in adapting the Community Apgar Questionnaire for physicians to the field of nursing in order to understand factors in rural nurse recruitment and retention.
Prengaman has successfully completed the Nursing Community Apgar Pilot Project, which was implemented at three rural Idaho Critical Access Hospital communities. The questionnaire was given to a nurse administrator and a practicing nurse at each of the three hospitals. The data analysis results were presented to the nursing administrative boards for the hospitals so that the boards may use the results to decrease rural nursing vacancies and improve access to care for rural populations.
Rural areas suffer a severe nursing shortage. Idaho rural hospitals historically report higher nursing turnover rates and longer replacement times than their urban counterparts, according to the Idaho Nursing Workforce Center. By developing a tool to assist rural hospitals' nurse recruitment and retention efforts, Prengaman and the other researchers at CHP hope to assist other rural hospitals across Idaho.
Like the Community Apgar Program for physician recruitment and retention, which is now being utilized by five states including Idaho and being inquired about by  many other states, the Nursing Community Apgar Questionnaire can be applied to rural areas across the nation. The Nursing Community Apgar Pilot Project was funded by the Idaho Office of Rural Health and Primary Care and the Department of Health and Welfare.