During the biannual College of Health Sciences meeting this fall, four faculty and staff were recognized for their outstanding service to the college. Congratulations to Andy Hyer, Jane Grassley, Barb Allerton and Angela Garcia.
Andy Hyer, lecturer in the Department of Community and Environmental Health, was conferred the Excellence in Faculty Teaching award. Hyer's students praised his positive attitude, passion for teaching and friendliness. The students note that Hyer's ability to provide a stimulating, yet fun classroom environment with ties to current health care events and issues make him a fantastic teacher. Hyer earned a bachelor of arts in humanities, with an emphasis in English, and a juris doctorate from Brigham Young University. Hyer also earned a master of health science, with a health policy emphasis, from Boise State. Prior to teaching at Boise State, Hyer practiced law, specializing in healthcare related cases.
Jane Grassley, associate professor in the School of Nursing, was given the Excellence in Faculty Research award. As a board certified lactation consultant (IBCLC), her research explores issues related to promoting breastfeeding. Her current research evaluates effective interventions for improving the breastfeeding support that mothers receive from nurses and from grandmothers. She is particularly interested in evaluating supportive nurse behaviors that optimize the childbirth and early breastfeeding experiences of adolescent mothers and their newborns. She also holds a joint appointment with Women's Services at St. Luke's Regional Health System to collaboratively develop research projects with the Treasure Valley hospitals' lactation consultants. Grassley's research on grandmother support was cited in the Surgeon General's Call to Action to Support Breastfeeding (2011). She was chosen to be a fellow in the 2012-2013 cohort of the Maternal Child Leadership Academy of Sigma Theta Tau International Nursing Honor Society. Grassley joined the Boise State University School of Nursing faculty in 2010 after teaching at Texas Woman's University where she earned her PhD in nursing science in 2004.

Barb Allerton, associate professor in the School of Nursing, was conferred the Excellence in Faculty Service award. Allerton serves the School of Nursing and the College of Health Sciences through her dedication to establishing the partnership with Hangzhou University in China. She has facilitated much student and faculty learning, global cultural learning and research and an on-going relationship to share learning and education about nursing. She has given countless hours to establishing and maintaining this partnership successfully. Additionally, Allerton spends untold hours advising fifth and sixth semester students, mentoring faculty who teach this student level, problem-solving, preventing problems and patiently leading course faculty and students to success as a Level Leader. Allerton also serves as a Faculty Senator for the College of Health Sciences for the University Faculty Senate. Her steady presence, critical thinking and broad knowledge serves faculty and students alike on Faculty Senate issues. Allerton  received her bachelor of science in nursing degree from Vanderbilt University and her master of science in nursing from Virginia Commonwealth University.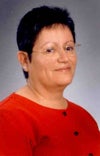 Angela Garcia, management assistant for the Department of Community and Environmental Health, was given the Excellence in Staff Service award. Though quiet and unassuming in manner, the faculty commend Garcia's professionalism and commitment to excellence. She is able to triage the demands of multiple people and she consistently focuses on providing excellent customer service to everyone, no matter how demanding her workload. Garcia continually works to improve her efficiency and effectiveness.