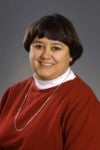 Leonie Sutherland, faculty in the School of Nursing has received funding from Blue Cross of Idaho to conduct a research study investigating diabetes self-management practices.
Diabetes self-management is essential for the effective control of blood glucose levels, slowing disease progression, and minimizing the devastating complications resulting from poor glucose control. Self-management requires a basic understanding of diabetes pathophysiology, shared decision making between provider and patient, and a commitment to incorporate health strategies into everyday living.
Blue Cross is implementing the Diabetes Light Wellness Coaching program designed to provide health coaching for members whose diabetes falls within specific parameters. The goals of the program are to help members with behavior change and provide support as they make lifestyle changes. The Diabetes Light Wellness Coaching program offers an opportunity to examine some of the issues surrounding successful self-management as recommended by the current state of knowledge. A research extension of this program will further explore the self-management experiences of program participants. A better understanding of how the trajectory of self-management unfolds will be helpful to tailor interventions to the unique needs for patients wanting to take charge of their diabetes.