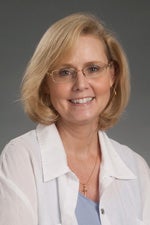 School of Nursing faculty member Karen Breitkreuz, EdD, MSN, CNS, RN, is partnering with staff from Saint Alphonsus Health System and Trinity Health have received a $100,000 grant titled "Perceived Risk: The Impact of Real and Simulated Exposure to Adverse Events."
The two-year grant is funded by the Agency for Healthcare Research and Quality (AHRQ) and could help researchers develop an effective program of education and/or exposure to simulated adverse events that provides a significant and lasting impact on attitudes and behaviors to decrease rates of preventable adverse events. Adverse events are accidents and/or preventable errors, caused by distractions in the healthcare environment and/or shortcuts healthcare providers take in efforts to expedite patient care.
How health care providers perceive the risk of adverse risk may affect their daily practice choices. For example, a nurse who gives a high-risk medication, such as Heparin every day, or who has seen the effects of a Heparin error, may have a different view or perception of the safety of this medication than a nurse who gives the medication infrequently. Healthcare providers who have seen or performed wrong-site surgery may perceive risk differently than those who have not. Since the healthcare environment has many sources of potential risk and error, these perceptions are critical.
Breitkreuz joins Melanie C. Wright, PhD, program director for patient safety and research, Trinity Health and Saint Alphonsus Health System, as a key investigator along with Renae Dougal, MSN, RN, nursing research and education specialist for the Research Institute at Saint Alphonsus Health System; Nichole Whitener, MSN, RN, director of the Research Institute for Saint Alphonsus Health System; Paul Jonlong, JD, PharmD, senior vice president for clinical quality and patient safety for Trinity Health; and Dr. J. Robert Polk, vice president for patient safety and quality for Saint Alphonsus Health System.
Using surveys and simulated exposures the research team wants to identify (1) whether or not individuals who perceive greater likelihood and consequences of adverse events report higher levels of attention to possible adverse events and greater adherence to prevention strategies how they perceive risk; (2) whether or not reported attitudes and intended behaviors are influenced by prior exposure to adverse events; and (3) whether or not attitudes and behaviors toward the goal of reducing preventable adverse events can be manipulated through simulated exposure to preventable adverse events.
The AHRQ mission is to improve the quality, safety, efficiency, and effectiveness of health care for all Americans. Information from AHRQ's research helps people make more informed decisions and improve the quality of health care services.