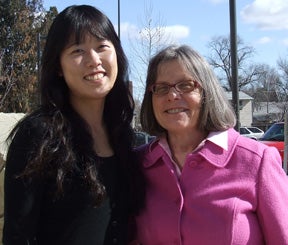 School of Nursing student, Ryoko Pentecost, has received a Boise State Student Research Initiative (SRI) Fellowship to study the benefits of an undergraduate research assistant in nursing. Pentecost is one of 20 students to receive a fellowship from the program, which is supported by the Division of Research, the Office of the Provost, and the Division of Student Affairs.
Pentecost is being mentored by School of Nursing faculty member Jane Grassley, PhD, RN. Pentecost received $1,400, which provides up to $1,000 of support for research expenses and up to $500 of support for conference travel.
Pentecost will be examining the role of the research assistant from both the student and faculty perspectives, in hopes that her research will encourage other nursing students to consider becoming nurse educators and researchers. She also hopes to be able to publish her research.
In the fall, Pentecost was one of 15 undergraduate students in the nation to be awarded an American Psychiatric Nurses Association (APNA) Janssen Student Scholarship. The scholarship provided a means for her to attend the APNA conference, where she met other students who shared her view of nurses as advocates for patients.
Pentecost dreams of opening a clinic for mothers with postpartum depression, after she becomes a psychiatric-mental health nurse practitioner with a Doctor of Nursing Practice. The opportunities she has experienced while in the Boise State School of Nursing have encouraged her to also consider being a nurse educator in the future. Pentecost credits the School of Nursing faculty for being fantastic mentors, encouraging undergraduate leadership through courses, the Student Nurses Association, and through the undergraduate research opportunities that are open to students.