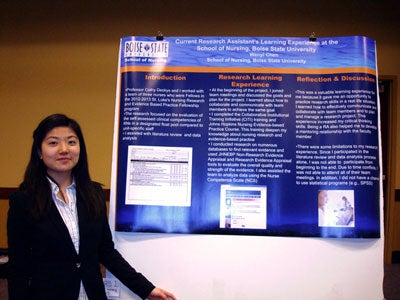 Nine College of Health Sciences students from the Department of Community and Environmental Health and the School of Nursing presented their research at the annual Boise State University Undergraduate Research & Scholarship Conference, held on April 15 in the Student Union.
"Research is central to the undergraduate experience here at Boise State," said Sharon McGuire, vice provost for undergraduate studies. "The projects being presented at this conference demonstrate the scope and depth of undergraduate research being conducted at Boise State. We appreciate our faculty for creating these opportunities for students that facilitate engaged learning, critical thinking and application of knowledge."
Boise State undergraduate students play a prominent role in research programs across various disciplines around the university. The 10th annual event, which will be a blend of podium, poster and performing arts presentations, allows the campus and greater community to meet students and learn about their meaningful explorations of everything from choreography to cancer treatment and alternative energy to marketing.
COHS Poster Presentations:
Current Research Assistant's Learning Experience at Boise State University School of Nursing
Presenter: Wenyi Chen
Faculty Mentor: Cathy Deckys, MSN, RN, COHN-SNC – School of Nursing
Civility as a Learned And Essential Skill In Nursing Education
Presenter: Danh Nguyen, Lyn Ages
Faculty Sponsor: Cindy Clark, PhD, RN, ANEF, FAAN – School of Nursing
The Benefits of Undergraduate Research Assistantships in Nursing
Presenter: Ryoko Pentecost
Faculty Sponsor: Jane Grassley, PhD, RN, IBCLC – School of Nursing
Enhancing Access to Cultural Health Assessment Instruments for Refugees in Idaho
Presenter: Samantha Fundingsland
Faculty Sponsor: Karen Breitkreuz, MSN, ED.D., RN, CNE – School of Nursing
COHS Podium Presentations:
Survey of Health Care Attorneys Regarding Content of an Undergraduate Health Law and Ethics Course
Presenters: Connor Sheldon, Brandon Skenandore (Honors), Veronica Hollingshead, Liz Moorhead
Faculty Sponsor: Andy Hyer, JD, MHS – Department of Community and Environmental Health
The Idaho Smiles Medicaid Plan: Benefits, Issues, and Effects on Children's Dental Care
Presenter: Brandon Skenandore (Honors)
Faculty Sponsor: Andy Hyer, JD, MHS – Department of Community and Environmental Health