by Danya Lusk
The Boise State University School of Nursing is restructuring based on funding source and business model, regardless of program level. Breaking from the traditional academic system where administrators are dedicated to one level of study, where they are either designated to chair the undergraduate programs or the graduate programs, the new administrative model will allow the school to maintain efficiency, quality and accreditation compliance across all programs. The restructuring will also allow the cross-training of the self-support staff, which is crucial to sustain online program delivery, and for the flexibility to develop new processes and to respond dynamically to future needs and challenges.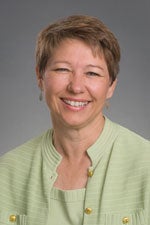 Five years ago, in Fall 2008, the School of Nursing began an innovative business venture to deliver an online/distance bachelor of science completion track to students across the country – without relying on dwindling state support. The self-support model or student revenue supported program, which runs on fees generated from student enrollment, has enabled the program to grow and serve students in all parts of rural Idaho as well as nationwide. With more health care institutions and businesses preferring to hire nurses who hold bachelor's degrees, the program's enrollment has grown more than 300% since its inception, giving Vivian Schrader, who has been the director of the RN-BS Online/Distance Completion Track, much experience in the self-support business model and with programs that exhibit rapid growth.
Facing a vacant chair of graduate studies position with new graduate programs in the final stages of the development process, the School of Nursing leadership reflected on each of the individual programs' needs. Director Pam Springer, Ann Hubbert, who has been the chair of undergraduate studies for the school, and Schrader, recognized that the self-support model was the only way to fund the new online programs and that these programs required a different mindset than traditional, on-campus, state-funded programs. This led to the school to begin developing a new structure, with faculty discussion throughout the process.
Schrader will be taking on the oversight of the brand new self-support graduate programs in the school – the master of nursing, adult-gerontology nurse practitioner (AGNP) program; the graduate certificate AGNP program; and the doctor of nursing practice (DNP) program; all of which were approved by the State Board of Education in February and, additionally, the AGNP programs were approved by the State Board of Nursing in May. Schrader has been promoted to chair of the AGNP program, DNP program and RN-BS Online/Distance Completion Track.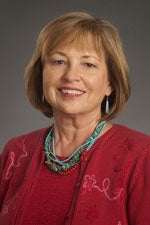 Meanwhile, Hubbert is taking on oversight of the existing master of nursing (MN) and master of science in nursing (MSN) programs, which are funded in the traditional way with state-appropriated dollars. This results in more than 40 faculty directly reporting to Hubbert, as their salaries come from appropriated dollars. Hubbert has been promoted to chair of the bachelor of science pre-licensure program, MN and MSN programs.
Tim Dunnagan, dean of the College of Health Sciences, stated, "I am proud that we are using our quality faculty to fill our administrative needs in such an innovative way. We are developing new ways of looking at administration."
Hubbert and, particularly, Schrader will focus more on budget and resource management as each program now has a program coordinator to focus on curriculum, with the exception of the bachelor of science completion track.
Current program coordinators, Dawn Weiler, for the AGNP program, and Pam Strohfus, for the DNP program, will now report directly to Schrader. Current coordinator for the MN and MSN programs, Leonie Sutherland, will now report directly to Hubbert. To further distribute Hubbert's increased workload, Diana Mixon will serve as a program coordinator for the pre-licensure bachelor's degree program.
"Developing a successful online program built on satisfied students and faculty has unique functions and needs that require a different emphasis than delivering an educational program face-to-face," explained Schrader. "When the AGNP and DNP programs were proposed, the only way to bring them on board would be by using a self-support model. It became apparent that these new programs be housed administratively with the bachelor of science completion program since many of the processes, functions and outcomes are the same for all self-support programs."
The administrative changes in the School of Nursing reflect similar changes "that are occurring in higher education as ways to offer education options to students where there is no funding," Schrader states. "I believe the two models (self-support and appropriated) can co-exist at a university. Infrastructures need to be adapted to meet the needs of both. In that sense, one size no longer does fit all."
Hubbert agrees and adds that the new structure for the School of Nursing will allow faculty to further encourage undergraduate students to continue their nursing education with graduate degrees, which is a recommendation in the "Future of Nursing" report by the Institute of Medicine. By not operating undergraduate and graduate programs in silos, faculty can introduce bright undergraduate students as potential graduate students, while discussing with students potential graduate projects they could implement as graduate nursing students at Boise State.