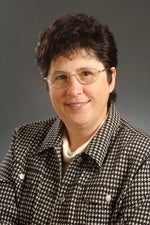 Pam Springer will retire from her positions as associate dean of the College of Health Sciences and director of the School of Nursing on Aug. 16.
The campus community is invited to join College of Health Sciences faculty and staff in celebrating her 24 years at Boise State from 4-6 p.m. Monday, Aug. 26, in the Student Union Lookout Room.
Springer has been lauded for her faculty development, academic leadership and collaborative educational, practice and community partnerships. She recently was inducted as a fellow in the National League for Nursing's Academy of Nursing Education.
Springer is active nationally in the Accreditation Commission for Education in Nursing Inc. and statewide through the Nurse Leaders of Idaho. Her current research efforts have focused on organizational culture in higher education and community-based participatory research with African refugees, focusing on communication in health care.
"It is rare to find a professional who has given so completely to the success of a program the way Dr. Springer gave to the School of Nursing," said Tim Dunnagan, dean of the College of Health Sciences. "Her leadership, dedication and vision to create a distinguished School of Nursing at Boise State University have been truly inspirational."
Springer will continue her professional journey as director of clinical learning services for St. Luke's Health System, where she will lead clinical education for all St. Luke's locations.