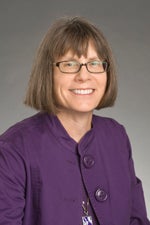 The Friends of Nursing named faculty member Jane Grassley as the first Friends of Nursing Innovation Scholar. The Innovation Scholar award will provide Grassley with $5,000 a year, renewable for two to three years, as seed money for her proposed work to promote breastfeeding among adolescent mothers.
"The Friends of Nursing and the School of Nursing are proud to support Jane Grassley as the first Friends of Nursing Innovation Scholar," said Ann Hubbert, director of the School of Nursing. "We applaud her contributions to this population and look forward to her further contributions."
The Innovation Scholar award was created as a part of the Friends of Nursing's current initiative to support faculty development. The award recognizes faculty who exemplify the qualities of an outstanding scholar, who demonstrate productive scholarship and whose scholarship is aligned with the School of Nursing's mission and strategic plan. The school's mission is to foster intellectual development and excellence in nursing education through teaching, learning, scholarship and service.
Grassley will create and pilot an online game tentatively called "The Breastfeeding Quest." Adolescent mothers breastfeed at lower rates than adults, but few interventions address their need for support. Due to lack of resources and support, adolescent mothers are particularly vulnerable to early introduction of formula supplements and decreased breastfeeding duration. Research shows that breastfeeding has great health and economic benefits for mothers and their children.
"The Breastfeeding Quest" will consist of three adolescent-friendly game modules that use a quest theme to empower adolescent mothers to seek and request the support they need to successfully begin and continue breastfeeding. The Central District Health Department breastfeeding support staff and Boise State nursing leadership students will assist in development of the game. Additional funding will be sought for future trials.
Partners in the development of the game include Kelley Connor, School of Nursing faculty who has expertise in gaming; Jennifer Weaver, Department of Psychological Science faculty who specializes in developmental psychology; Cindy Galloway, Central District Health Department Women, Infants and Children program's breastfeeding staff and adolescent clients; and Karen Wambach, who will serve as a consultant in adolescent breastfeeding support interventions.