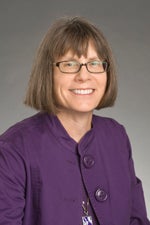 Jane Grassley, faculty in the School of Nursing, presented three papers and a poster at the 2013 International Lactation Consultant Association (ILCA) annual conference in Melbourne, Australia. During the conference, which focused on "Born to Breastfeed: A Global Public Health Imperative," she also fulfilled her responsibilities as the chair for the association research committee, of which she has been a member for five years.
Grassley presented a pre-conference workshop with three ILCA colleagues titled, "Taking the Mystery Out of Planning and Doing Research." To make the workshop more entertaining, each presenter came as a fictional detective. Grassley chose Corinna Chapman, a Melbourne-based detective, which thrilled the Australians.
Grassley lead a concurrent session titled, "A Research Toolbox for Lactation Professionals," and was surprised by the significant attendance of more than 70 people. During one of the concurrent sessions, she presented a research study titled, "An Exploratory Study of Initial Formula Supplementation of Healthy Breastfeeding Newborns" as a poster and oral presentation.
Grassley enjoyed the stimulating conversations with other conference attendees who share her passion for breastfeeding support. She also had many lively conversations about her research and the School of Nursing with other conference attendees, who represented a diverse global community.