By Danya Lusk
Unfortunately, not all children experience the feelings of comfort and safety in their homes. When children are victims of neglect, sexual or physical abuse or witness abuse of family members, their entire future and sense of self changes.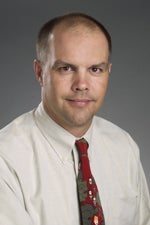 Max Veltman, associate professor in the School of Nursing, is working with the Nampa Family Justice Center to help local children cope with trauma. Veltman holds a joint appointment with the Nampa Family Justice Center. In August, Veltman and two Boise State nursing students, John Dilgard and Jake Gere, served as members on the health care team for Camp HOPE, a specialized summer camp where physically or sexually abused children can participate in a week-long camp and engage in activities to help them deal with some of the many issues with which they struggle.
According to the National Center for Children Exposed to Violence, childhood exposure to violence has a devastating impact on children's development, affecting emotional growth, cognitive development, physical health and school performance. Exposure to violence at a young age has been significantly linked with increased depression, anxiety, anger, and alcohol and drug abuse, and with decreased academic achievement. The children, who experience violence, either as victims or as witnesses, are at increased risk of becoming violent themselves. These children are significantly more likely to have involvement with the juvenile justice system, committing crimes at younger ages and nearly twice as often as their peers who have not been similarly exposed to violence.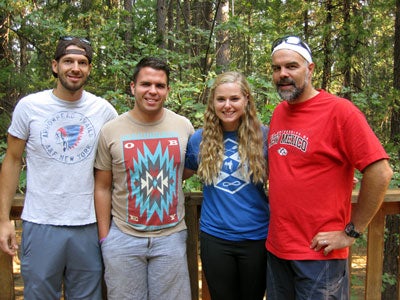 The Nampa Family Justice Center sent 17 campers, ages 10 – 15, to Camp Kidder Creek near Mt. Shasta, Calif., where Camp HOPE is currently held. From 2003 – 2011, Camp HOPE operated as a program of the San Diego Family Justice Center. In 2012, the Shasta Family Justice Center (Redding, CA) sponsored the first Camp HOPE program outside of San Diego County. With support from the National Family Justice Center Alliance, the Shasta Family Justice Center engaged a broad cross-section of supporters from the community to host a powerful week long camping program for Shasta Family Justice Center children and at-risk children connected to allied agencies of the center.
The summer of 2013 was the first time children outside of California were able to participate in the camp. The alliance is now developing a more comprehensive Camp HOPE camping initiative for Family Justice Centers in Oregon, Washington, Idaho and California.
The vision for Camp HOPE California is to break the generational cycle of family violence by offering healing and hope to children who are victims of family violence the opportunity to build relationships with other children with similar experiences, and to provide them with a safe, fun and engaging camping experience. As Karianne Gwinn, Camp HOPE Director 2012 said, "Camp HOPE is about giving children their childhood back."
Children from Nampa camped with children from California and many other children. In addition to many specialized therapeutic activities, campers rode horses and participated in an overnight raft trip on the Lower Klamath river. Other activities included music, drama, arts and crafts, creek hiking, swimming, rock climbing, small group sharing times, archery and a variety of other activities designed to give all the children an exciting week of adventure.
The three themes which connect all Camp HOPE activities are based on Casey Gwinn's definition of HOPE for children: believing in yourself, believing in others and believing in your dreams. The Kidder Creek and Camp HOPE staff, youth counselors and adult volunteers encouraged and challenged each child with each of these hope concepts.
"The camp was intended to help children in these unfortunate situations, but I think that the kids involved in the camp taught me more than anything with their powerful dreams and aspirations – it made me want to push myself to be a better RN when I enter the field and help those out with certain needs that they cannot provide for themselves." said Dilgard of his experience working at the camp. "The camp opened my mind to the importance of dedicated caregivers, healthcare providers, teachers, and family that will be able to help vulnerable populations like kids involved in domestic violence. Domestic violence is more present all around us than we could imagine and it's time to break the cycle of abuse in families and homes."
For more information on Camp HOPE, visit camphopeca.com.
For more information about the Nampa Family Justice Center, visit nampafamilyjusticecenter.org.
For more information about the National Family Justice Center Alliance, visit familyjusticecenter.org.