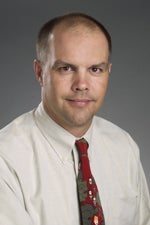 Max Veltman, associate professor in the School of Nursing, conducted a half-day training session dealing with "Adolescent Relationship Abuse and Reproductive Coercion" for primary healthcare providers in Wilder, Idaho on Jan. 16.
This training was part of Project Connect Idaho, a three-year initiative funded by Futures Without Violence and the US Department of Health and Human Services Office on Women's Health.  Project Connect is a national initiative intended to build collaborations between the public health and domestic violence fields to improve the public health response to domestic and sexual violence.  Idaho and four other states are participating in phase two of the project and the activities are being coordinated by the Idaho Coalition against Sexual Abuse and Domestic Violence.
Project Connect Idaho's vision is that adolescents seeking health services will be provided with guidance on healthy relationships and a safe environment for supportive, routine assessment of adolescent relationship abuse, sexual violence, and reproductive coercion. And in the event of abuse, adolescent health care providers will effectively respond with trauma-informed services and provide support through meaningful collaborations with community-based domestic and sexual violence programs.
Project Connect Idaho will connect healthcare providers and local domestic and sexual violence programs. Healthcare providers have a critical opportunity to provide information on healthy relationships in a safe, supportive, and confidential setting, and to identify and support adolescents experiencing relationship abuse, sexual violence, or reproductive coercion.