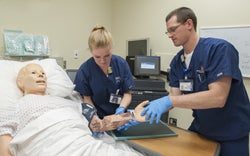 Boise State's School of Nursing and the National League for Nursing are co-sponsoring the Second Simulation Conference: Exploring New Ideas in Simulation on April 25-26. This two day conference, held at Boise State, will promote and improve the use of simulation in healthcare education. Exploring new ideas in simulation will provide participants with innovative strategies in designing and delivering simulations that include behavioral health, incivility, emergency medical services, inter-professional and educational gaming content. There will be something for everyone in healthcare education from academia to various practice settings.
Keynote speakers include Boise State's Suzan Kardong-Edgren, the Joanna "Jody" DeMeyer Endowed Chair in Nursing, Pamela Jeffries, professor and associate dean for academic affairs at Johns Hopkins University School of Nursing and newly appointed president-elect to the International Society for Simulation in Healthcare, and Eric Bauman, assistant dean for the Institute for Research and Clinical Strategy and fellow and visiting scholar at University of Wisconsin-Madison School of Education, Department of Curriculum and Instruction.
Included on the agenda is a tour of the College of Health Sciences Simulation Center, which recently received accreditation in teaching and education from the International Society for Simulation in Healthcare. Optional activities may include "3 Slides and You're OUT!" and book signings. Early bird registration pricing ends March 27. Read more information or register.