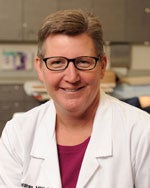 Janet Willhaus, assistant professor in the School of Nursing, served as planning chairperson this past year for the 2015 International Nursing Association for Clinical Simulation and Learning (INACSL) conference which was held in Atlanta, Georgia in June.
The four day conference was attended by more than 900 people and featured more than 200 speaking presentations, hands on demonstrations, and poster presentations. The planning committee was headed by Willhaus and consisted of three other people. The conference contained a couple of new and successful activities, one of which was "Professor Rounds" where the planning committee selected a limited number of research posters and assigned a group of five or six posters to a professor with an expertise in simulation research. At specified times, the professor met with the poster presenters and discussed each poster. Small groups of conference attendees were able to follow the professors on their rounds to glean tips on research methods and design.
This conference, a leading forum for nurse educators, researchers, nurse managers, and staff development professionals, provides the ideal environment to disseminate and gain current knowledge in the area of skills/simulation lab management and simulation enhanced education. Nurses and other healthcare professionals have the opportunity to network with colleagues and exhibitors and to discuss best practice research, safety-related outcomes, competencies, and challenges. The 2015 INACSL conference was the largest in 14 years. Because use of simulation in nursing programs is growing so rapidly, it is anticipated that the organization and annual conference will continue to grow.
While Willhaus will not be the planning chairperson for the 2016 conference in Grapevine, Texas, she will still participate on the planning committee as an advisor to the new planning chairperson.