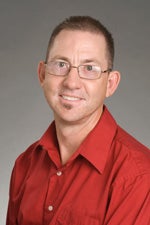 Luther Raechal, simulation technician for the School of Nursing, attended the SimGHOSTS USA 2015 training event at Cedars-Sinai Medical Center in Los Angeles, California on August 4-7. Though Raechal intended to take part in the conference as a student, he was presented with an impressive opportunity to volunteer.
SimGHOSTS holds the "Bug Buster Competition" each year. The competition consists of three rounds where simulation specialists work individually and in teams to troubleshoot and prep a room for simulations starting in ten minutes. This year, the event was in need of help, so Raechal seized the opportunity to volunteer. Raechal worked with the former champion of the competition and another advanced specialist to design, run, reset, and evaluate three different scenarios over two days. The volunteers used a patient and control room at the Cedars-Sinai simulation center, utilizing its incredible equipment. At the end of the competition, the volunteers crowned a new "Bug Buster" champion and the event committee recognized each of the volunteers and their respective institutions in front of the entire gathering.
Raechal praised the experience saying, "It was a great opportunity to use different technology, equipment and work with great specialists running actual scenarios."
SimGHOSTS, also known as The Gathering of Healthcare Simulation Technology Specialists, is a non-profit organization dedicated to supporting the growing international population of professionals operating medical simulation technology and spaces. The organization encourages individuals responsible for the technical operation of a medical simulation lab and clinical educators tasked with operating the day-to-day of simulation spaces to attend the event. Participants are exposed to hands-on training workshops, special pre-symposium courses, and podium presentations in manikin programming and hardware repair, A/V system design, integration and consolidation, information technology networking and debugging, and much more.
Though Raechal found himself busy volunteering, he was still able to attend a few sessions, the keynote and plenary addresses, and the vendor exhibit hall. He will also be able to attend the convention virtually since the sessions were recorded and will be posted on the SimGHOSTS website.