by Alivia Wachsmuth
Each year, the nursing program chooses one student to create a project working hand-in-hand with the Nampa Family Justice Center in Nampa, Idaho as part of a unique fellowship through the Domestic Violence and Foster Care Nursing Fund.
Students submit a cover letter, resume, and essay explaining their goals for the fellowship, and after an interview with Karen Godard, clinical associate professor for the School of Nursing, and Max Veltman, associate professor for the School of Nursing, the fellow is chosen.
The Domestic Violence and Foster Care Nursing Fund was established by Theresa James, a Boise State alumna who is passionate about creating awareness in the nursing profession about domestic violence and its effects on children and families. James is dedicated to support the education of undergraduate nursing students related to vulnerable populations.
James enrolled in Boise Junior College and completed the two year associate degree in nursing program after one year of general courses at North Idaho Junior College in Coeur d' Alene, Idaho. James graduated in 1970 with her Associate of Science Degree in nursing.
During her professional career, James worked in the emergency department at Holy Family Hospital in Spokane, Washington. Though she did not have much contact with foster care and domestic violence in her professional life, James' concerns for those issues grew out of personal and familial experiences.
Previously, James had created a scholarship in her parent's names for nursing students in the Boise State rural nursing program. During a campus visit, James talked with Pam Springer, director of the Nursing Program at the time, who told James about two of her professors who had developed a medical clinic for children in foster care and were working in conjunction with the Nampa Family Justice Center. The program had begun with a grant which had since expired.
Because of James' growing personal interest in foster care and domestic violence, she decided to provide a donation to help with the expenses of the program. James had expected the money to go toward transportation and other faculty expenses, but when she learned that the donation was used to give a student the opportunity to work with the Nampa Family Justice Center, she was excited. After seeing the positive results, James donated the next year, and decided to formalize the arrangement and established the Domestic Violence and Foster Care Nursing Fund.
"I find it a great privilege to have a small part in helping develop a stronger understanding in the nursing profession of the difficulties facing children who experience family trauma and violence, and, hopefully, better multidisciplinary cooperation between nurses, social workers, and law enforcement which will benefit future generations," said James.
Once the Nursing program chooses a fellow, James receives information about who the recipient is, and often the recipient sends James a personal letter about their project. Some years James has been able to attend a seminar or personal presentation arranged by the recipient.
The 2015-2016 Foster Care Student Nurse Fellow was Abigail Lipschultz, May 2016 nursing graduate. In April, Lipschultz presented a poster summarizing her work for the Nampa Family Justice Center at the 16th annual Alliance for Hope International Meeting held in San Diego, California.
The Alliance for Hope, formerly known as the National Family Justice Center Alliance, provides research and support for the numerous professionals who care for and treat victims of domestic violence and abuse and thereby provides healing and hope for victims.
The conference culminated a year-long immersive study for Lipschultz who studied domestic violence and vulnerable populations including children in foster care. Godard and Veltman, were able to direct Lipschultz in her work. During her fellowship, Lipschultz spent a lot of time at the Nampa Family Justice Center in Nampa, Idaho doing foster care exams.
"Children who are placed in foster care have to receive a physical within 30 days to ensure their health needs are taken care of, as many children come into care because of neglect," said Lipschultz. "Common issues we saw were dental decay, malnutrition, lice, ringworm, learning delays, etc."
Lipschultz noticed that they were seeing many of the same issues and the foster care parents often had questions about the best way to manage these conditions. She decided that it would be beneficial to compile important information about these common conditions so she made easy to read and understand informational sheets that foster parents could take home and reference.
Lipschultz created ten health information sheets providing a definition, cause, prevention method, and treatment for: acne and teen facial care, conjunctivitis, dental decay and cavities, diaper rash, dry skin, head lice, healthy eating, learning disabilities, overweight and obesity, and ringworm. The health education sheets continue to support the health education program for foster parents interested in learning about the health needs of the children in their care.
"By creating these educational sheets, I felt that I could improve the quality of the care and education we were providing to these children and their foster parents," said Lipschultz.
Boise State School of Nursing faculty are significantly involved with the foster care system in southwestern Idaho.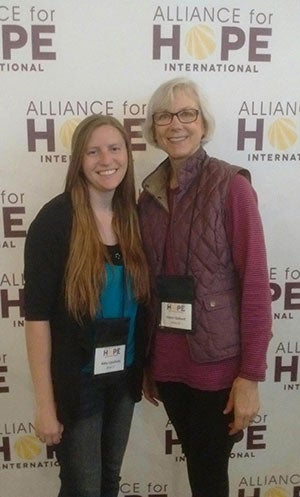 "The health of foster children is a vital issue for all future nurses, especially pediatric nurses. The number of children exposed to violence and maltreatment continues to be a major public health issue. While the numbers of children coming into foster care has not increased significantly in the last 25 years, the numbers and percentages of children in foster care with significant health issues has increased and continues to do so," said Veltman. "More often than ever, nurses are encountering children in foster care who are either hospitalized or involved in some sort of community health system (outpatient services, school nursing, primary care clinic, etc…) where their unique legal (custody and consent) and developmental issues require insight and specialized education that will allow the nurse to provide important health care to the foster child. Foster children cannot be treated exactly the same as non-foster children for many reasons, yet most systems, including the health care system, do just that. Thus foster children with health conditions are consistently identified as one of the most vulnerable populations in our country."
Through her fellowship, Lipschultz gained insight into the exact problem Veltman describes.
"I gained a passion for a whole world that i previously knew very little about," said Lipshultz. "Not only did I learn better assessment skills and how to care for pediatric patients, but I learned how to be a more compassionate nurse that is sensitive to where a patient is coming from. I learned how to successfully collaborate with other professionals outside of the healthcare field in order to improve outcomes for the people we encounter. Because of this opportunity I am a better nurse and a better human being."