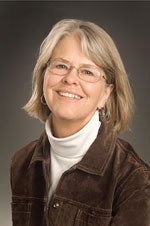 Kathy Reavy, emeritus faculty for the School of Nursing,  authored a textbook, "Inquiry and Leadership: A Resource for the DNP Project" which was published on September 1.
"Inquiry and Leadership" is evidence-based and focuses on quality and rigor for successful completion of a Doctor of Nursing Practice (DNP) project. The intent of the book is to enhance rigor in the construction and implementation of the DNP project by providing detailed information and rationale about process and actions. It also contains scholarly tools and forms to assist organization and structure of the DNP project.
Reavy earned her bachelor of science, master of science in nursing, and doctor of philosophy degrees from the University of Utah. For eight years, Reavy held a joint appointment for clinical nursing research with a regional medical center and Boise State University. At the medical center, Reavy worked with teams to plan and evaluate policies, projects, and programs. She also sat on the hospital's Evidence-Based Practice Committee.
Reavy has taught the undergraduate nursing research class, which focuses on evidence-based practice, at Boise State University for more than ten years. Reavy also created the teaching tools specific to evidence-based practice to enhance student learning and to increase relevance. She also worked on faculty teams to build curriculum for the master's and DNP programs.