Max Veltman, PhD, RN, CPNP
Associate Professor, School of Nursing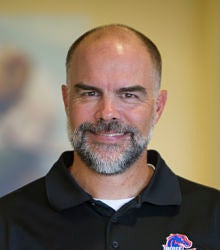 Max Veltman joined the School of Nursing in 2007. Veltman currently teaches Pediatric Nursing content in the undergraduate curriculum. He teaches both didactic and clinical content as well as working with the Marsing School district on improving health outcomes in that community as part of the Community and Population Health class.
Veltman's research focuses on the health issues of children involved in the child welfare system. This includes victims of physical and sexual abuse and children who are involved with the foster care system. This often involves collaboration with many of the community-based organizations involved in the Treasure Valley such as Idaho Health & Welfare, the Nampa Family Justice Center, Canyon County Law Enforcement entities and the St Luke's CARES program.
Veltman is a member of the board of the Idaho Coalition Against Sexual & Domestic Violence and also serves on the Canyon County Child Fatality Review Team. He also serves on the St Luke's Children's Hospital's Clinical Integration Committee (CCIC) work group. He is also a longtime volunteer with the Treasure Valley YMCA and currently serves on the Advisory Board of the YMCA Horsetheif Reservoir Camp.
Veltman has a PhD in Nursing from the University of New Mexico. His dissertation topic involved exploring the needs of foster parents who care for children transitioning from the hospital into the foster home. He has a BS and a MSN from the University of Texas at Austin. Veltman is certified by the National Association of Pediatric Nurse Practitioners & Associates (NAPNAP) as a Pediatric Nurse Practitioner. He is licensed as both a Registered Nurse and an Advanced Practice Nurse in Idaho.
Prior to coming to Boise State, Veltman was a full-time instructor at El Paso Community College. Veltman's career prior to academia includes working in Pediatric Oncology, Pediatric ICU, and Emergency care, Urgent Care and Primary Care at various agencies in Austin, Ft Worth and El Paso, Texas.
Contact Information
Office: NNHS 337
Phone: (208) 426-3707
Email: MaximilianVeltman@boisestate.edu
Research Spotlight