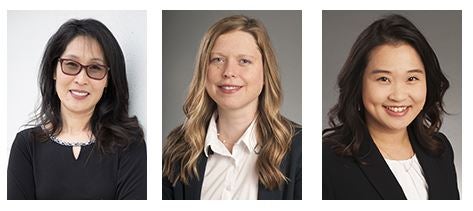 Organizational Performance and Workplace Learning (OPWL) faculty and graduate students as well as OPWL alumni presented at the International Society for Performance Improvement's annual performance improvement conference April 5-10 in Seattle.
Professor Yonnie Chyung, with graduate students Theresa Brittain, Mark Morgan, and Tammy Wheeler, and an alum Jie Chen presented "Conducting Evaluations with a 10-step Procedure." Chyung also presented "Evidence-based Survey Design with Likert Scales" with graduate student Megan Kennedy and alums Katherine Roberts and Leva Swanson.
Assistant professor Lisa Giacumo presented "Working Together: Performance Improvement, Employers, Academics and Students, and Designing E-Learning for Cross-Cultural Global Workplace Needs," as well as facilitated a round-table discussion regarding performance improvement and HR relevance in the data age.
Giacumo also presented "Manage Cognitive Load to Increase Training Transfer" with a graduate student Sabrina Johnson and "Transfer to Performance: Deliver Valued Results!" with a graduate student Kristen Goff.
In addition, assistant professor Crystal Han presented "How Can We Accelerate the Formation of Creative Project Teams?"
OPWL alums who also presented at the conference were:
Dan Hardin, "EPSS Solution Saves Thousands of Man Hours"
Chris McQueen, "How Google Introduces New Hires to a Culture of Innovation"
William Piersol, "Synergy by Design"
About the OPWL Program
The Organizational Performance and Workplace Learning (OPWL) helps prepare students for careers in the areas of instructional design, training and development, e-learning, workplace performance improvement, organizational development, program evaluation and performance consulting.
Interested in learning more about the OPWL program?
Contact a Student Success Coach