Prospective Student Communications and Marketing
Production Windows and Lead Times
Thanks for submitting your project request well in advance of when your deliverable is needed so we can fully collaborate with you on execution and ensure we secure the right vendor (if applicable) to deliver your product. Due to supply chains and vendor workloads, project lead times are significant for print projects and we encourage you to submit your request as early as you are able.
Print Publications/ Promotional Items
Poster, Postcard, 1-2 page Flyer – 4 week minimum
Brochure – bifold, trifold 4-6 pages – 6-8 week minimum
Guide, long form – 6+ pages  – 6 week minimum
Swag, Tabling items, Promotional Items etc. – 1.5-2 month minimum
Digital
Blog Post – 2 week minimum
Video – 1-2 month minimum
Web – 1 week minimum for updates, 2-3 week minimum for new content and features
Social – 2 week minimum
Email –  2 week minimum for 1-3 emails, 4 week minimum for 3-6 emails and 4+ week for 6+
Project Requests
The Admissions (ADM) communications team is excited to collaborate with campus partners on targeted messaging to prospective student audiences and their families. However some caution is needed when approaching prospective students and families. It's essential that students who are in the early stages of consideration and commitment to Boise State receive carefully crafted and well-branded messaging so that they can have confidence in the experience they will be having with our institution. They receive a high volume of communications directly from the Admissions team, so when working with campus partners our ADM team will advise on the best timing and core messaging for this audience so that your message can be appropriately delivered at the right time and place, to the right subset of students.
For an overview on how to submit the 'ADM Comms Request form', check out this video. Once we have received your project request we may reach out to request a check-in with the project staff to go over the details. Depending on the project, we may ask that you become a collaborator in Wrike so that we may have a more seamless collaboration process with your department.
Audience Definitions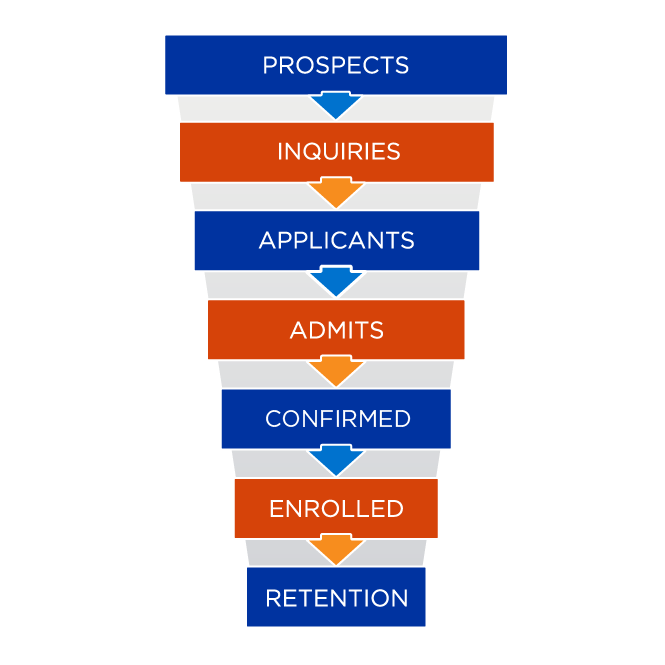 Prospect – "Cold leads" This audience is exclusively non-residents and is from a list purchased by a 3rd party vendor. This pool includes Sophomores, Juniors and Seniors.
Inquiry – "Warm leads" This audience includes all Idaho residents, as well as Nonresident students who have taken action to show they are interested in Boise State (attending an event, signing up for an info session, submitting a request for information). This pool includes Sophomores, Juniors, Seniors and Transfers.
Applicant – This audience has either started an application or has submitted one. If you are interested in communicating with applicants, be sure to specify if you want to include both of these audiences.
Admit – This audience has been admitted to Boise State. Due to the 'Apply Idaho' process, this is a large pool of students and historically less than half of this audience will end up committing to Boise State.
Confirmed – This audience has submitted their Intent to Enroll along with their deposit and is further segmented by those who may or may not have signed up for orientation and housing.