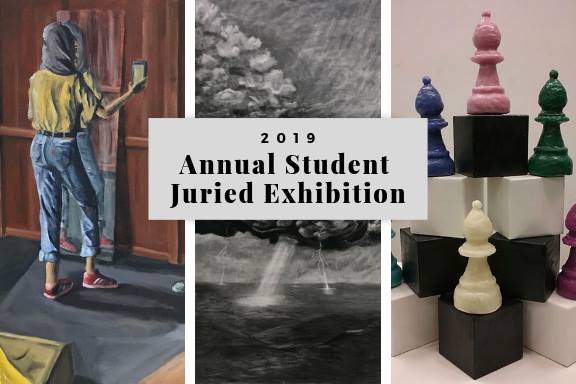 January 25 – March 26, 2019
Reception: February 7, 2019 5-7 pm (Awards announced at 6 pm)
Visual Arts Center, Gallery Two – Hemingway Center 110
ABOUT THE JUROR
Pauli Ochi founded Ochi Projects in Los Angeles, California in 2015 and also runs Ochi Gallery in Ketchum, Idaho. She received a BA in Art and Art History from Colgate University and an MA in Art Business from Claremont Graduate University. Ochi is committed to working closely with emerging artists and offers programming that strives to engage audiences and foster dialogue around new contemporary art. Ochi Projects participates in national and international art fairs and organizes off-site programming and events that include panel discussions, artist walk-throughs, performances and workshops.
Awards sponsored by the College of Arts and Sciences, the Department of Art, Design, and Visual Studies and the Visual Arts Center.
Detail images of artworks by (left to right): Lemuel Saputra, Melissa Maxey, and Brittany Bishop.
Regular gallery hours during the exhibition are Monday-Thursday 10 am-5:00 pm and Friday 10 am-2:00 pm. (closed for President's Day and Spring Break)