Clinical Associate Professor, School of Public and Population Health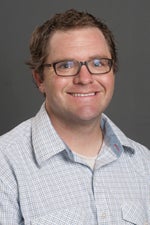 Andy Hyer joined the School of Public and Population Health as a full-time Lecturer in January 2011. He holds Juris Doctorate cum laude and Bachelors of Arts degrees from Brigham Young University, and a Master of Health Science with a health policy emphasis from Boise State University.
Previously, Hyer worked as an associate attorney at the law firm Hall, Farley, Oberrecht & Blanton, P.A. in Boise, Idaho. Immediately following law school, Hyer was a law clerk for the Honorable G. Richard Bevan, with Idaho Fifth's District Court in Twin Falls, Idaho. While in law school he was an extern for Chief Justice Christine Durham of the Utah Supreme Court and an editor for the BYU Law Review.
Hyer teaches a variety of undergraduate classes in the Department, including Health Law and Ethics, Research Methods in Health, Environmental Health Law, and Current Issues in Health Policy. Hyer's scholarly interests include a range of public health, health law and policy, and pedagogical topics. He has given conference presentations or authored publications on long-term care finance, health care fraud enforcement, public health issues in the Idaho state legislature and the pedagogy of writing and online learning in the health sciences. He is on the Board of Directors for the Idaho Public Health Association and served as its President in 2012.
Contact Information
Remote
Phone: (208) 426-7307
Email: AndyHyer@boisestate.edu