Professor, School of Public and Population Health and Director, Center for Health Policy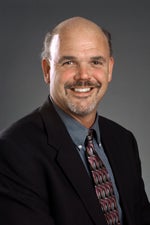 Ed Baker, Ph.D., is the Director of the Center for Health Policy at Boise State University and is a Professor in the School of Public and Population Health in the College of Health Sciences. He earned his Ph.D. in Educational Psychology from Temple University in 1994. Baker has over 20 years of experience in healthcare– working with hospitals, physicians, government agencies and academic institutions. His areas of interest include healthcare policy, rural workforce planning, healthcare financing and performance improvement. Baker serves on the Board of the Idaho Rural Health Association and holds the position of President-Elect. He is a member of the National Rural Health Association and serves on the International Journal Reviewer Panel for the Rural and Remote Health Journal.
Baker is the co-developer of the Community Apgar Program for critical access hospitals and community health centers which is currently utilized in six states across the US. His research on recruitment and retention of physicians to rural and underserved areas has regularly been published and presented at conferences to state, regional and national audiences. Baker has been recognized with the Excellence in Research Faculty Award for the College of Health Science in 2006 and 2011.
Baker has also received numerous teaching honors such as the Outstanding Faculty Member Golden Apple Award. He serves on Graduate Student Master Theses Committees and Senior Honors College Projects and is an Internship Supervisor. In addition, he is a mentor and leader to Senior Researchers, Graduate Assistants, Undergraduate Assistants, and staff at the Center for Health Policy. He currently serves on various college and university committees, such as the Strategic Planning Implementation Team, Council of University Centers and Interdisciplinary Studies University Committee.
Contact Information
Office: HSRV 102 or Yanke Family Research Park
Phone: (208) 426-3118 or
(208) 426-3113
Email: EBaker@boisestate.edu