Pilot Study to Evaluate the Effect of an Organic Diet During Pregnancy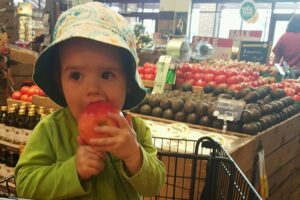 Dr. Curl's earlier research demonstrated that pre-school aged children with organic diets had significantly lower exposure to certain pesticides than children with conventional diets. Subsequent research by Dr. Curl and others has confirmed this finding, but the question remains whether this reduced exposure measurably improves health. From 2015-2018, the Curl Agricultural Health Lab conducted a pilot study that lays the groundwork for a larger project to investigate whether or not there is an association between this lower exposure and health effects.
This pilot study allowed our research team to assess the effect of a long-term (24-week) organic produce intervention among pregnant women. Twenty pregnant women were randomly assigned to receive weekly deliveries of either organic or conventional fruits and vegetables throughout their second and third trimesters. In conjunction with the food deliveries, we collected weekly spot urine samples which were analyzed for biomarkers of organophosphate (OP) and pyrethroid insecticides.
We found that participants who received organic (vs conventional) produce had significantly lower biomarkers of pyrethroid exposure. In contrast, we observed no statistically significant differences for any of the four biomarkers of OP exposure. This was the longest dietary intervention to date, and the first to occur in pregnant women, and we believe this study shows that a long-term organic diet intervention can be executed in a way that is effective, realistic, and feasible.
The full manuscript describing this research was published in Environment International in July 2019, and has since received substantial attention from the public and media. Media outlets including National Public Radio and The Conversation have highlighted the study's novel design, which lays the groundwork for a future long-term dietary intervention among vulnerable populations.
This pilot study was funded by the Institute of Translational Health Sciences at the University of Washington and by the OSHER Institute for Lifelong Learning.