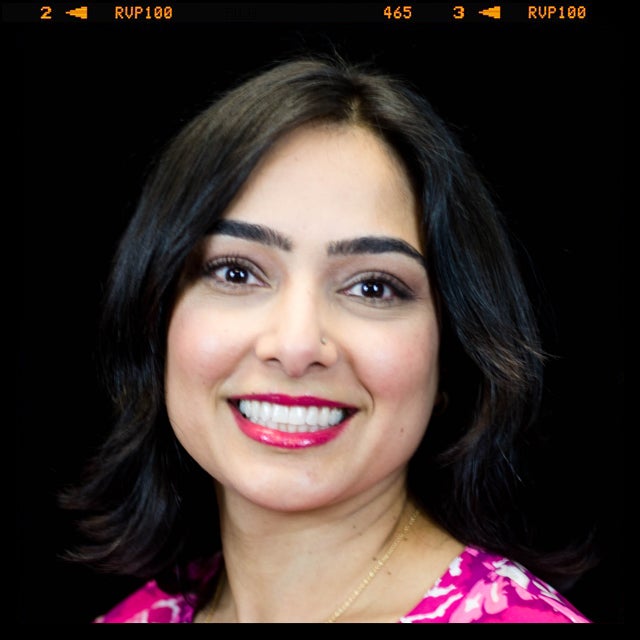 "Five Questions" is a new feature at The Blue Review. We ask scholars, activists, and public officials five short questions about their work (and other things). In this feature, Assistant Professor Natasha Behl from the School of Social and Behavioral Sciences at Arizona State University, tells us about her research. Dr. Behl recently visited Boise State University to discuss her new book Gendered Citizenship: Understanding Gendered Violence in Democratic India. 
Dr. Behl's research focuses on violence against women in India. Boise State Criminal Justice faculty (Drs. Laura King and Lane Gillespie) and Political Science faculty (Dr. Nisha Bellinger), draw on their expertise and ask Dr. Behl five questions to help our readers better understand similarities and/or differences in trends of violence against women in India versus the United States.
---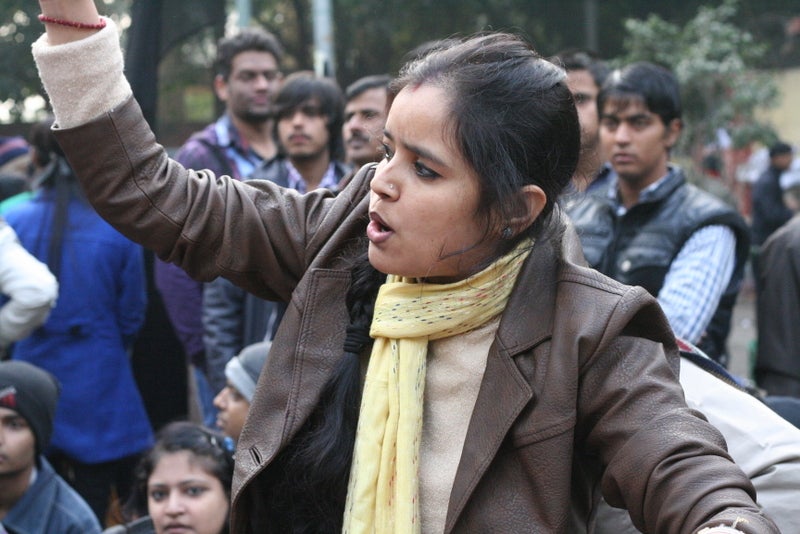 In 2012, the gang rape and subsequent death of a 23-year-old college student in India, Jyoti Singh, led to large scale protests across the country. How has the Jyoti Singh case impacted legislation in India? Given that legislation alone does not guarantee equality or safety for women, are there other ways in which the case has affected gender equality?
Jyoti Singh's brutal murder galvanized Indian citizens to fight against sexual and gender-based violence; it created a political opening for gender equality in India. This moment exemplified a promise of gender equality culminating with the progressive Justice Verma Committee (JVC) report. Yet this opening was followed by a political closure—the adoption of the 2013 Anti-Rape Law, which ignored the JVC report and enshrined gender-based discrimination.
In my book, Gendered Citizenship: Understanding Gendered Violence in Democratic India, I argue that the progressive political opening and the retrenchment of patriarchal norms following Jyoti Singh's murder are emblematic of the Indian state's radical promise of equality and its horrific failure to achieve this equality. I analyze politicians' responses to demonstrate how gendered norms are used to exclude women in the name of inclusion. This analysis highlights the difficulty of eradicating gendered violence through legal reform and demonstrates the unpredictability of the political process.
In the U.S., research indicates that many incidents of violence against women are never reported to authorities for a variety of reasons such as fear of reprisal, not being believed, self-blame, and belief that the police would not do anything to help. How does this compare to the reporting of gender violence in India?
The situation is similar in India. Most incidents of sexual and gender-based violence are never reported to the authorities. In India, gender-based violence is disturbingly commonplace, and conviction for such crimes is low. Most rape victims in India find it very difficult to register police complaints. Often a rape victim's sexual history is used against her, medical evidence is not taken promptly, police delay in processing complaints, and sometimes police sexually assault women who report crimes.
Why is it important for people to identify as a feminist?
It is important to identify as a feminist because gender can have life and death consequences. And yet, if I were to ask my students: Are you a feminist? Many of them would respond by saying, "We don't need feminism anymore because women are equal." Others would say, "You can't be feminist and be religious." Still others would say, "isn't feminism an "f" word? Aren't feminists angry radicals who hate men?" These are just some of the myths and misconceptions about feminism.
In fact, feminism is open to difference; it is plural. Therefore, feminists have radically different views and values. For example, feminists can be liberal or conservative. Feminists can be religious or secular. Feminists can be feminine or masculine. Feminists can be married or single. Feminists can be queer or straight. Feminists can be mothers or fathers.
There is no easy or simple definition of feminism. I often use the term feminisms rather than feminism because there are so many types of feminism—Western feminism, liberal feminism, postcolonial feminism, women of color feminism, black feminism, Chicana feminism, eco-feminism and so many more.
There is an ongoing debate about how to define feminism. I think this debate is important because it demonstrates that feminism can be open, reflexive, and plural. It isn't always, but it can be. I want to highlight the importance of pluralism, here. Because the moment one kind of feminism becomes universalized as the center, then scholars and activists overlook the lived experience of subordinated groups and they create a biased understanding of the world.
How do I define feminism? I understand feminism as a critique of power relations centered on the concept of gender and its intersections with other categories of difference. For me, it is important to study people's understanding of gender because it can have life and death consequences.
How does your book, Gendered Citizenship, inform and/or challenge readers?
Most of us assume that citizenship is a neutral and universal concept, determined by constitutions. Others often assume that citizenship is a legal status, and once this legal status is achieved, then all citizens enjoy equality.
My book, Gendered Citizenship, challenges this kind of thinking. I argue that legal approaches to citizenship are insufficient. Such approaches overlook the complex daily-lived experience of citizenship. These approaches ignore the fact that citizenship is experienced unequally depending on intersecting forms of difference—caste, class, race, religion, gender, and sexuality. In response, I call for an understanding of citizenship as legal status and embodied, social relation. My approach to citizenship explains why some citizens enjoy democratic inclusion and why others are most vulnerable to exclusion and violence. My approach can better explain why democratic equality remains unrealized.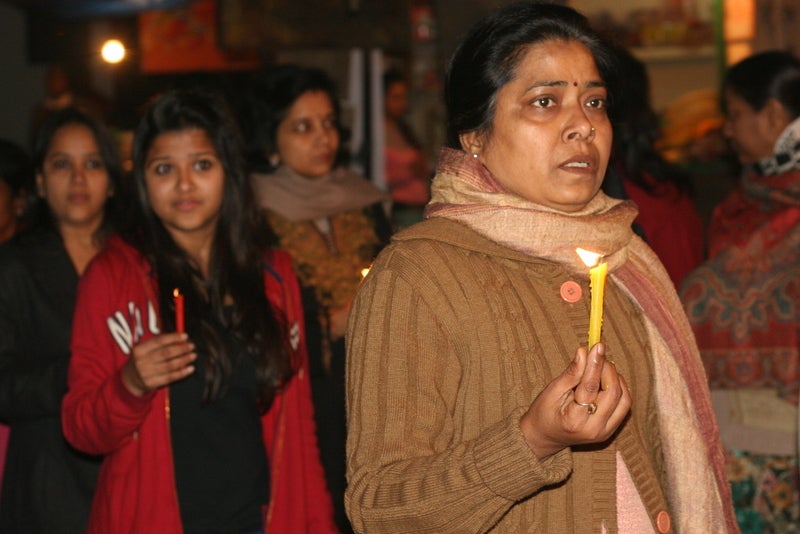 What do you want people to take away from Gendered Citizenship?
I find that gendered violence—compounded by intersecting categories, like caste, religion, class, and sexuality—is used to control women's bodies, to limit their democratic participation, and to police them in civil society, their religious community, and at home. At one end of the spectrum is violent sexual assault. At the other end are gendered norms that determine access to food, healthcare, education, inheritance, and property rights. Gendered violence undermines the promise of democratic equality. It puts women's lives at risk; it causes women to be second-class citizens.
I also find something surprising; something most scholars of Indian democracy wouldn't anticipate. I find that the secular state can operate in undemocratic and exclusionary ways while religious spaces can be sites for democratic participation. Some Indian women link gender equality and religious freedom as shared goals. Through their participation in devotional organizations these women gain access to public spaces, build solidarities across differences, and create more egalitarian relations.
---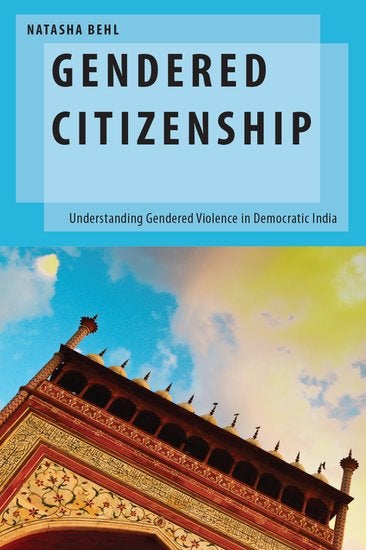 Check out Natasha Behl's TEDx Talk. The talk asks, are you a feminist? It uses research from her book, Gendered Citizenship: Understanding Gendered Violence in Democratic India, (Oxford University Press) to explain why women's equality is simultaneously secured in constitutions and law, while undermined by acts of gendered violence.
---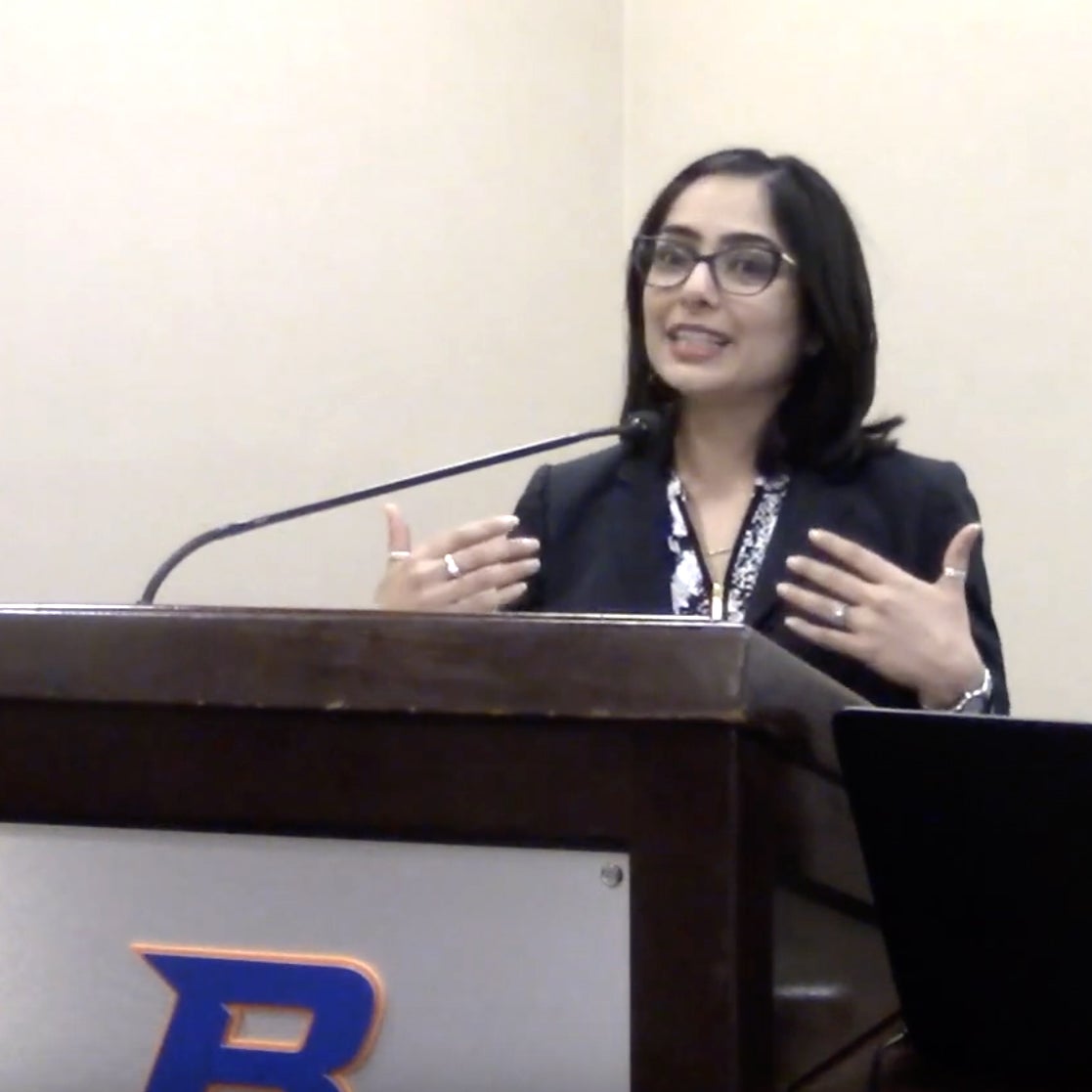 Watch a video of Natasha Behl's Boise State University presentation on YouTube.