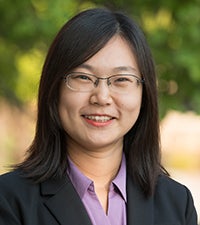 Assistant Professor, Economics
jingxianhu@boisestate.edu • (208) 426-3051 • Mail Stop: 1620
Office Number: MBEB 2204
Jingxian is an assistant professor in the Department of Economics. Her research interest lies in monetary policies and exchange rate regimes of open economies, especially for emerging markets. She studies the policy implications by analyzing the economic dynamics with theoretical models and computational methods. Her teaching areas include macroeconomics, monetary economics, and quantitative methods. Before joining Boise State University, she obtained her Ph.D. in economics from the University of Kansas and M.A. in economics from the Renmin University of China.
Education
2018 Ph.D., Economics, University of Kansas, Lawrence, U.S.A.
2013 M.A., Economics, Renmin University of China, Beijing, China
2011 B.A., Economics, Shandong University, Jinan, China