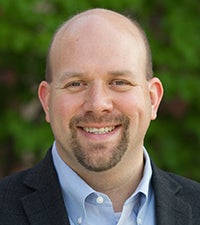 Assistant Professor, Information Technology Management
danrush@boisestate.edu • (208) 426-3182
Office Number: MBEB 2123
Daniel Rush is an assistant professor of information technology management at Boise State University. He joined Boise State from the Monfort College of Business at the University of Northern Colorado, where he was an assistant professor of computer information systems. Daniel's Ph.D. in business administration is from the University of Michigan, where he studied business information technology and was part of the Technology & Operations Department at the Stephen M. Ross School of Business. Research interests include the application of information systems to challenging interdisciplinary problems, with two recent emphasis areas including environmental sustainability and health IT. Daniel also researches topics related to project management and information systems education. Prior to joining academia, Daniel worked for seven years in health care, real estate, telecommunications, and high tech industries. A native of Idaho, Daniel's undergraduate business degree is from the University of Idaho in management information systems and finance.
Education
Ph.D., Business Administration – Technology & Operations Ann Arbor, MI
Stephen M. Ross School of Business, University of Michigan 2015
B.S., Business – Management Information Systems, Finance Moscow, ID
University of Idaho 2003
Teaching Areas/Areas of Expertise
Business Intelligence
Information Systems
Project Management
Web Design
Featured Publications
Melville, N., Saldanha, T., Rush, D. "Systems enabling low-carbon operations: The salience of accuracy." Journal of Cleaner Production 166 (November 10, 2017): 1074–83.
Seidel, S., Bharati, P., Fridgen, G., Watson, R., Albizri, A., Boudreau, M., Butler, T., Kruse, L. C., Guzman, I., Toland, J., Karsten, H., Lee, H., Melville, N., Rush, D., Watts, S. "Panel Report: The Sustainability Imperative in Information Systems Research." Communications of the Association for Information Systems 40 (February 1, 2017).