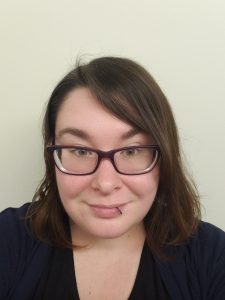 Ashlee Milton has been selected as a Finalist of the Computing Research Association's (CRA) Outstanding Undergraduate Researcher Award for 2020 which recognizes undergraduate students in North American colleges and universities who show outstanding research potential in an area of computing research. Being named one of 23 finalists for this award is quite an honor and she is in good company with other finalists drawing from major research institutions like University of North Carolina at Chapel Hill, Harvard, Duke, Stanford, UC-Berkeley, and Cornell.
Ashlee is a senior and works as an undergraduate research assistant for Dr. Sole Pera in the People and Information Research Team (PIReT). She graduates with her bachelor's degree in computer science this winter and begins her master's degree in computer science in the spring.
Specifically, Ashlee's research is focused on information retrieval in regards to non-traditional users and she is currently exploring how teens with depression and anxiety interact and respond to search engines. She has also researched search and recommenders for children and had a paper accepted to the 2019 RecSys Demo track and a paper at ImpactRS, a workshop at RecSys. This is all remarkable given that she has only been doing research at this level for a year!
This is the second year in a row that a Boise State University computer science student has been recognized by the CRA for their scholarship and achievement in undergraduate research. Daniele Moro was named a 2019 finalist. A full list of past and present awardees and finalist can be found at https://cra.org/about/awards/outstanding-undergraduate-researcher-award/.