GenCyber Student Camp 2018
The 2018 GenCyber Student Camp at Boise State University was a free, full-day, one-week program that introduced high school students in Boise and nearby to cybersecurity first principles and the rapidly developing field of cybersecurity. Using hands-on activities, students engaged with applied cryptography, Raspberry Pi 3 set up and security, threats, risks, network traffic analysis, penetrating testing, and virtualization practices.
When & Where:
Two camps were offered in the Boise State Computer Science Department in downtown Boise (777 West Main St. Boise, ID 83702). The first camp was held July 9, 2018 – July 13, 2018 (Girls only) and the second camp was held July 16, 2018 – July 20, 2018 (Girls and Boys) with camp starting at 8:30am and ending at 4:30pm. Breakfast and lunch were provided. The priority application deadline was Wednesday, May 30th, 2018 after which new applications continued to be considered until spots were filled.
Objectives:
The GenCyber Student Camp at Boise State University was designed for high school students (entering grades 9-12) in Southwest Idaho and the Boise area to:
introduce and cement knowledge of cybersecurity first principles
increase the curiosity of the participants in the field of cybersecurity
encourage participants to seek further education in cybersecurity
motivate participants to seek a career in cybersecurity
Topics:
Topics included online cybersecurity awareness, cryptography, device security, device and network privacy, wireshark, iptables, sqlmap and Raspberry Pi 3 was taught in class, from which students were exposed to several cyberesecurity first principles.
Class Form:
Team-Based Learning (TBL), an Evidence-Based Instructional Practice, was used to create an engaged community of learners.
Preliminaries: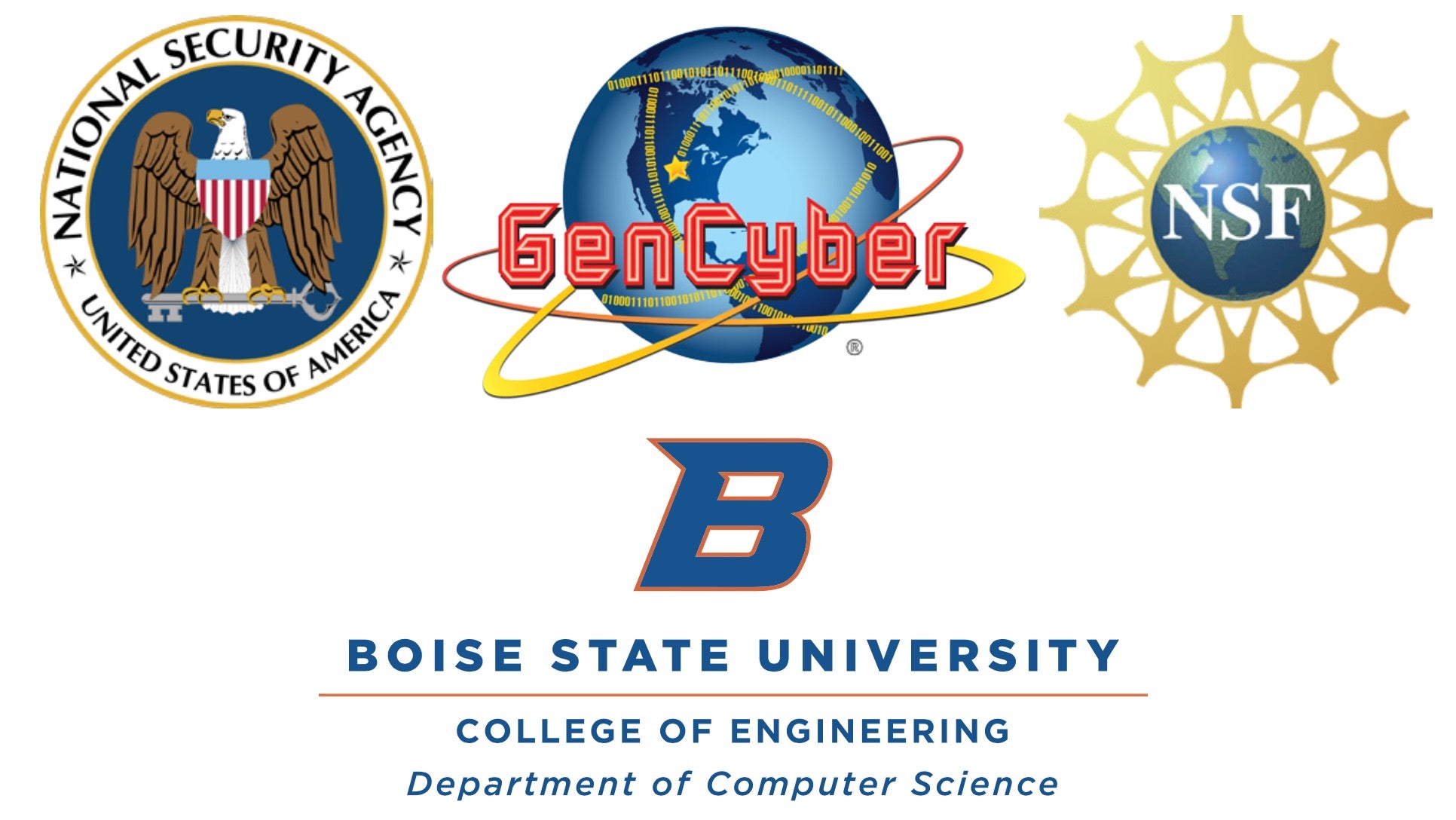 No cybersecurity or computer programming background or experience was needed to apply. At camp onset, students completed a survey to assess their cybersecurity knowledge. Based on survey results, facilitators put student in groups that best help them progress toward a stronger understanding of computer science principles. Additional staff engaged with novice-level learners.
Contact:
If you have any questions or need any further information, please contact the Computer Science Department at computerscience@boisestate.edu or (208) 426-5766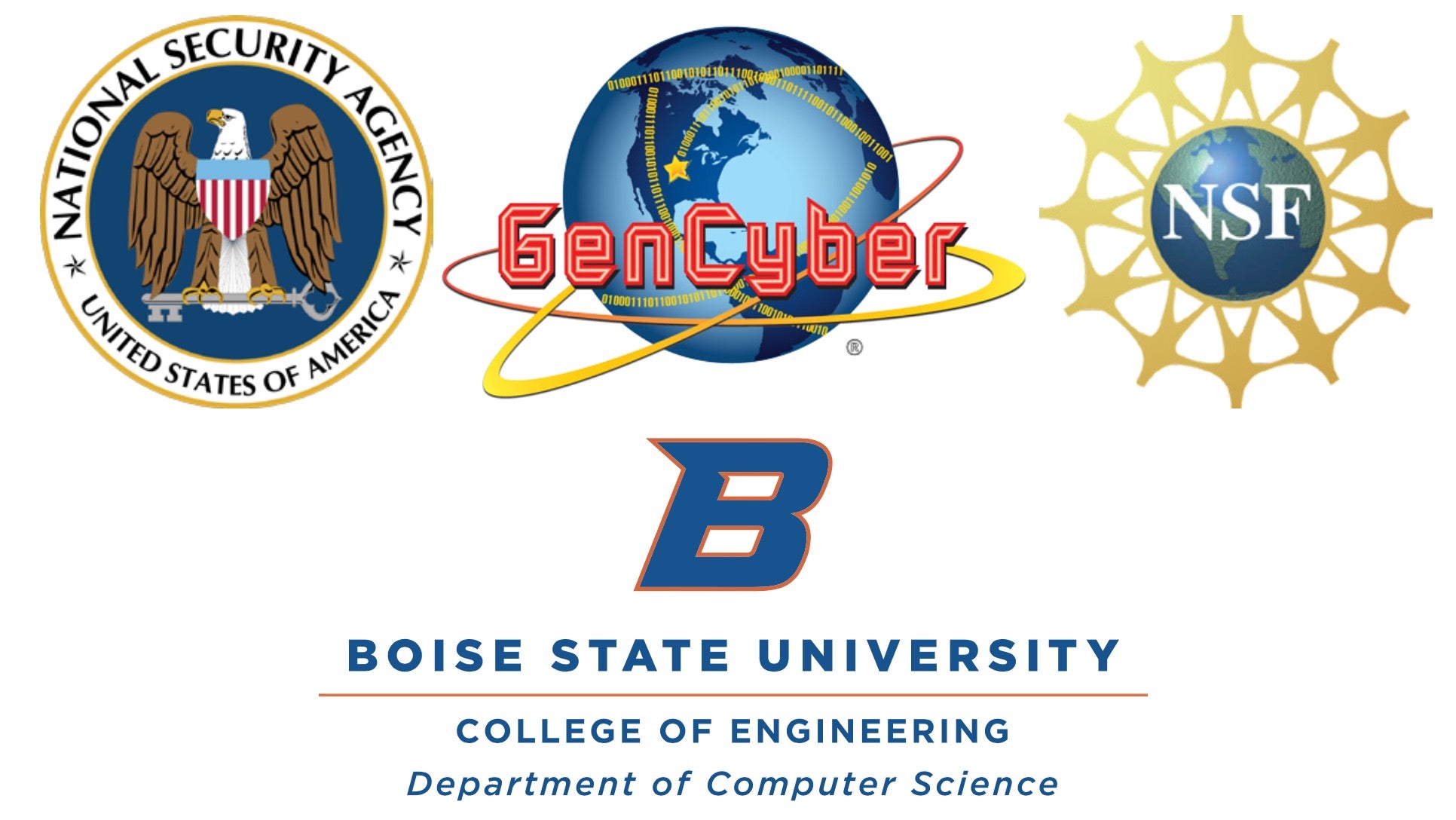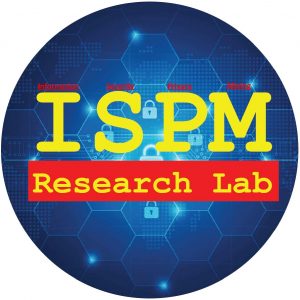 Project sponsored by the National Security Agency under Grant/Cooperative Agreement Boise State University GenCyber Grant Number H98230-181-0086. Any opinions findings, and conclusions or recommendations expressed in this material are those of the author(s) and do not necessarily reflect the views of the National Security Agency.